Dragon Fruit Drawing Is Made In 6 Easy Steps
Create Fresh Dragon Fruit in 6 Easy steps
With our six easy steps to follow, you and your children will enjoy creating their own dragon fruit drawing on paper. You will follow our guide and our illustrations to make complete dragon fruit with us. You can learn to draw directly on paper by following the article and our reference images on the website or you can download our sample images and draw along. With our detailed instructions arranged from easy to difficult, it is suitable for everyone, whether you are a beginner or an expert in the field of drawing, you can easily do, quests to complete your dragon fruit drawing.
If you are an art teacher, this is the ideal article for you to refer to on how to teach drawing to children; for learning and entertainment, children will have the opportunity to develop more comprehensively about drawing.
How To Draw Dragon Fruit – Let's Get Started!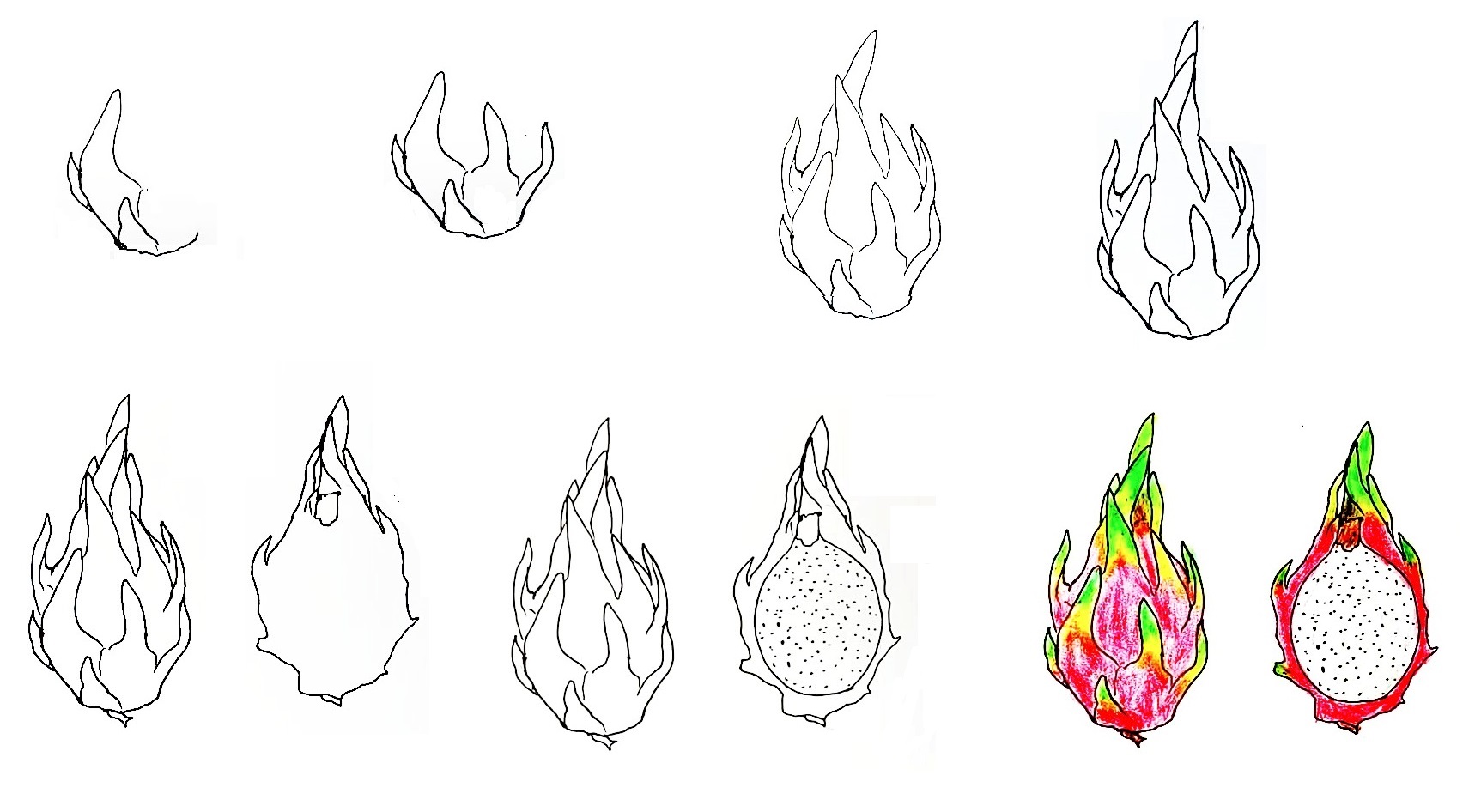 Dragon fruit is a familiar fruit to us; this is a fruit that can be eaten at every meal daily
To learn to draw dragon fruit, you need free time; this tutorial on how to draw dragon fruit takes about 30 minutes, and you can enjoy it after the hard-working hours.
The proper entertainment will help you balance life and work more effectively. With drawing of dragon fruit or anything can become a good entertainment channel.
Before starting to draw, you must prepare drawing tools such as a pencil, drawing paper, crayons or colored pencils, a black marker (optional), and a ruler. You can also take advantage of the items available in the house if you have them so that you don't have to pay for this drawing learning.
You will first perform the task for the dragon fruit drawing with faint pencil strokes, then you will erase the mistakes and bold the correct ones, and finally, you will choose the color for your product, dragon fruit. You will color your drawing. In general, this task is not too difficult; you just need to focus while learning to draw; this is also an interesting task for you. Please draw in the most comfortable way, accompanied by a dragon fruit drawing tutorial is dragon fruit coloring pages updated on our website that you can use to practice your drawing and coloring skills. And now you will know clearly how to draw dragon fruit in the following seven steps.
Step 1 – Draw Outside Of Dragon Fruit

Start the task of this guide on how to draw dragon fruit to draw outlining dragon fruit by drawing the scales that cover the outside of the dragon fruit. You use curved lines to realize your task.
Very simple task for you in this step; you can see in our image drawing this is the first step for dragon fruit drawing. You need to draw it properly then the worn-in next steps will be easy to do. And now, you are ready to move to the second step.
Step 2 – Add More Scales To Dragon Fruit

Similar to step 1, in this step 2 on how to draw dragon fruit, you need to add scales to your drawing fruit.
It's not too difficult, and you will use many curved lines for the task. The scales will be unequal from the outside of the most natural dragon fruit drawing, as you see in our reference image.
Once you are happy with your image, you can go to the next step.
Step 3 – Draw More Dragon Fruit Scales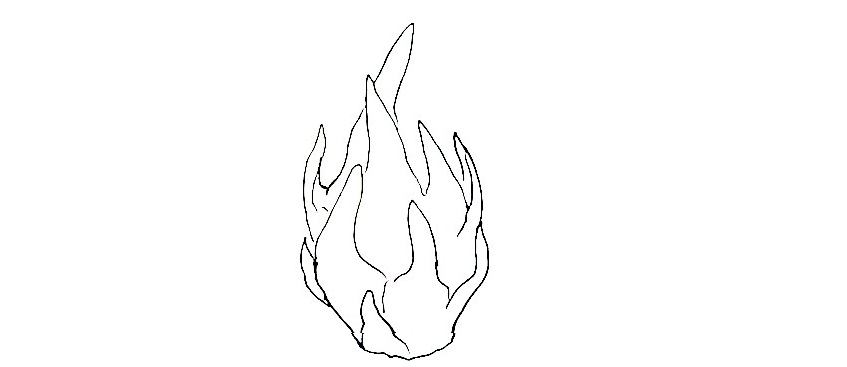 Your task in this third step for the dragon fruit drawing is to draw more dragon fruit scales using pairs of curves that meet at a point. You should also notice that these scales outline the teardrop shape of the fruit.
Similar to the previous steps, most of the time, you will use curved lines to draw scales of dragon fruit. If everything is done at this step, then you move on to the fourth step right away.
Step 4 – Complete The First Dragon Fruit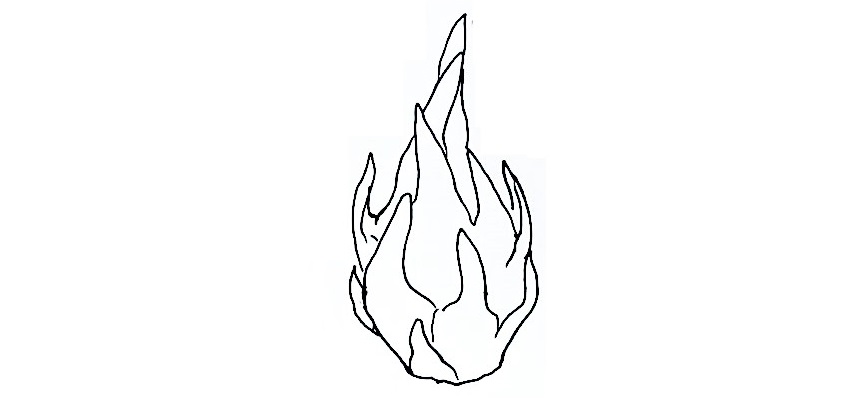 In this step 4 of your dragon fruit drawing, you have achieved the first result, a complete dragon fruit. You can look at our illustration and do the task for this step.
Your main work in this step is to add details to the first dragon fruit to make it perfect.
You will draw the missing scales on this dragon fruit and now look at your first dragon fruit drawing, and it's really complete. You continue your work for drawing in the fifth step.
Step 5 – Draw Another Half Of A Dragon Fruit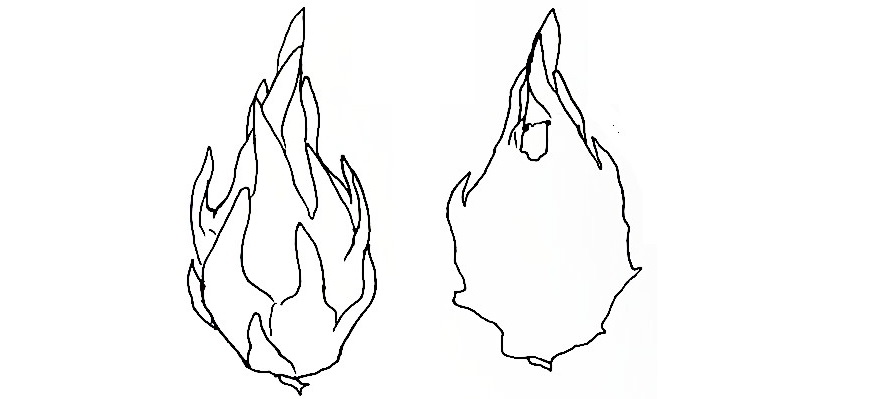 Now, we will start drawing another half of the dragon fruit. You draw and use a curved line to outline the bottom of the dragon fruit like an oval.
The top half and around of this dragon fruit will also have scales, so you need to draw scales for it, draw more dragon fruit scales, and connect the two parts. For each scale, use two curves that meet at the same points as you see in our reference image.
Step 6 – Draw The Dragon Fruit Seeds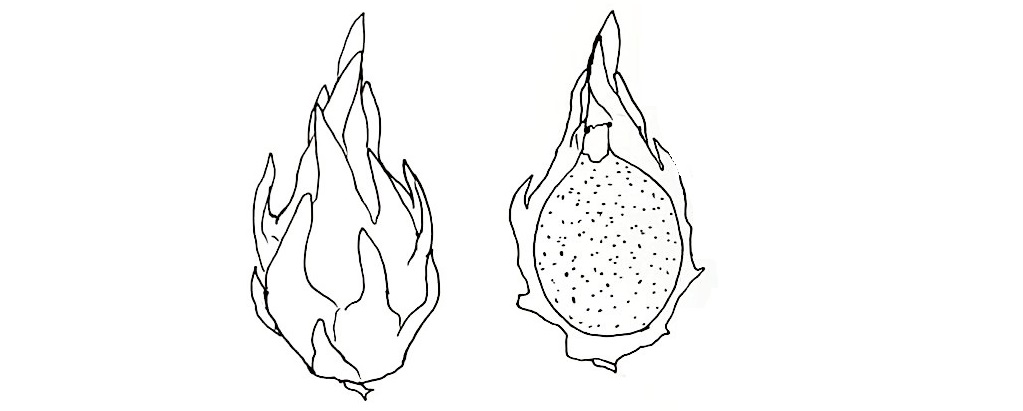 In the final details for your dragon fruit drawing, you must draw many seeds for half of the dragon fruit.
The presence of seeds is shown in the half of a cut dragon fruit. You use the black dots to show the dragon fruit seeds.
So, you finish your drawing task on how to draw dragon fruit, and you have the last step for coloring dragon fruit drawing right now.
Step 7 – Color Your Dragon Fruit Drawing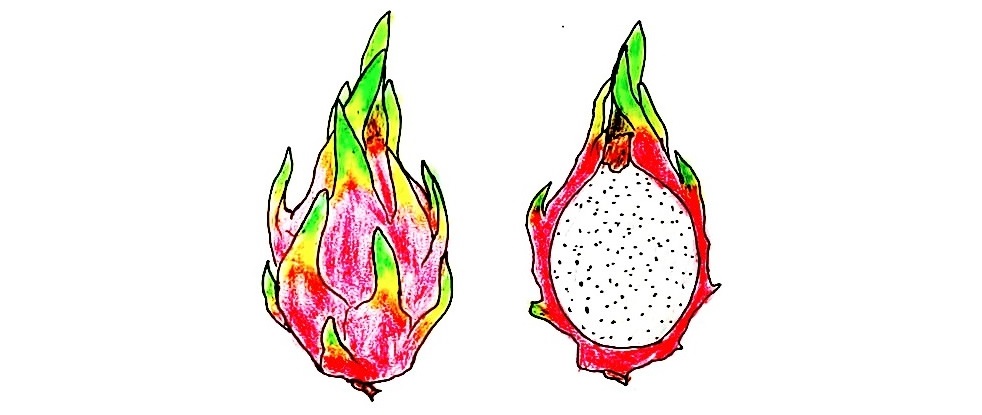 In this step, you have to color your dragon fruit. As you know, this exotic fruit is usually bright pink and green. Some have yellow skin. The inner flesh of the fruit is usually white, red, or purple. It depends on your favorite colors. You can choose purple or white inside, but outside, you have to choose red for the skin and green and yellow for the scales. You get complete dragon fruit with your skill here.
Your Dragon Fruit Drawing Is Complete
That's the final for your task on how to draw dragon fruit. Drawing diagrams such as this can sometimes be a bit tricky, so we hope that by breaking it down into smaller steps, we made it much easier for you to take on. Once you have mastered dragon fruit, you can add more creativity to your image to make your creation more beautiful. You can mix several different colors to make your drawing completely unique in your own way. You can share your dragon fruit drawing on our Facebook and Pinterest pages for us to see! On our site Coloringcool.com, there are many educational products such as drawing guides, coloring pages, and blogs for free that you can enjoy and practice your drawing and coloring skill after learning to draw. If you like to draw fruits, you can refer to some fruit drawing instructions such as How To Draw A Durian, and How To Draw The Apricots, etc. I hope you like this dragon fruit drawing guide and come back here if you are free.