How To Draw Bluey – The Details Instructions
Complete perfect Bluey drawing in just 9 easy steps
Right now, you will learn how to draw Bluey or Bluey drawing with us. We give the instruction details and you will follow us and our illustrating to create complete bluey. Whether you are beginner or an expert in drawing, you can realize well this task. With nine simple steps, you will go to step by step and get a complete bluey. If you are a parent, you should not skip these guides because it will help you find entertainment channels for your children. Why not? you can come here for free and we update always the instructions. Your kids will get some good skills as pen skills, patience skills, observation skills, painting skills….that are good for kids. More drawing and coloring will help you to reduce stress and worries and make your life better. Your kids participate in those activities will avoid contacting the technical equipment as television, smartphone, tablets,,,they are harmful to children's eyes and development. Along with the tutorial, we have also included a couple of free Bluey coloring pages that you can print off and give to your kids to color!
How To Draw Bluey – Let's Get Started!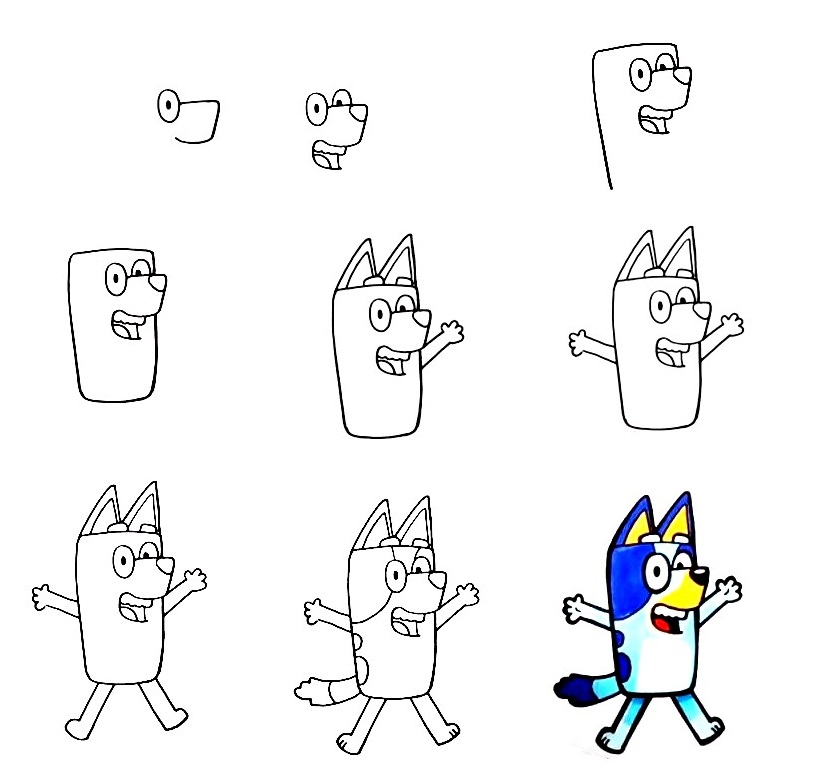 Bluey is one of the new favorite cartoon series on Disney for kids. Today, you're learning how to draw Bluey! It is very interesting, you and your kids are sure to have a great time with this drawing lesson It would help if you prepared some things like paper, pencil, colors…you will draw with a pencil and easy to erase if you make mistakes. So, please don't worry, you can draw in the most comfortable mood. The character, Bluey you draw will look very cute and funny. There are nine steps in this simple tutorial. In drawing Bluey, you can help your kids to know more about this character. You can learn to draw Bluey with your kids and make a healthy entertainment channel for them,. You rather start drawing it step by step with us and get a complete Bluey that makes your own mark. Now, let's get started to draw bluey with us!
Step 1 – Draw An Eye And Nose For Bluey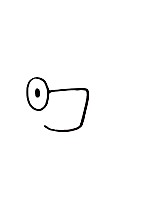 On paper you will use pencil to draw a circle, then you will draw a small circle within this circle. it is an eye for Bluey. After that, you use three straight lines and make noses for Bluey. You can look at our images and follow them. Once you have these elements looking as they do in the reference image, you're ready for step 2!
Step 2 – Add The Rest Of Eyes And Finish Nose And Mouth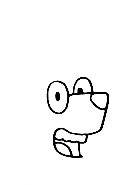 You will continue to draw nose and mouth with straight lines and curved lines. After that, you will add the rest of the eyes for bluey as well. Because this eye is partially covered by Bluey's nose, you don't need to draw the whole eye, you just need to draw a circle to represent part of the eye. Tou continues to add an open mouth for Bluey as well. You can look at our images and follow it. Now, you finish your task and move to step 3, and continue your drawing.
Step 3 – Draw Bluey's Face Outline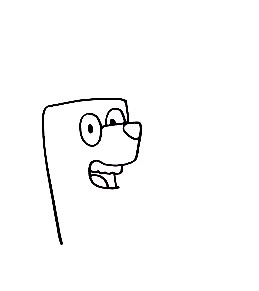 From Bluey's left eye, use a pen to draw a line around the eyes, nose and mouth to form a face outline for bluey. Now, you get Blue's face with eyes, noses, mouth,..and continue to drawing your character in the fourth step.
Step 4 – Draw The Outline Of The Torso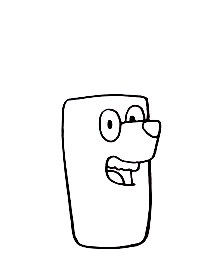 Rght now, you will continue the previously drawn lines with straight and then you will turn some place to create body for Bluey. It is simple in this step, you can finish it in few seconds and move to step 5.
Step 5 – Draw Ears And A Hand For Bluey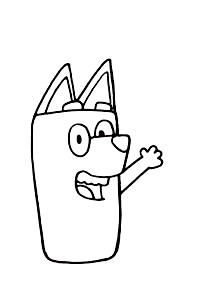 The ears appear pointed. So, you must draw a triangle and with thin it you will draw another triangle to make an ear. You will do the same for the other ear. You can finish your task here and go to step 6.
Step 6 – Draw The Rest Of Hands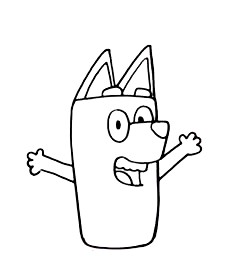 Now we can draw in the rest of the arms of Bluey. You will use two parallel line to make the arm and hand ending for Bluey. You will draw four fingers for each hand.You can finish your task in this step and move to step 7.
Step 7 – Draw Bluey's Legs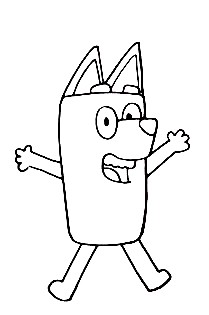 Now, you will draw the legs of Bluey. You must use straight, curved lines for two legs. From body, you use the parallel line to draw legs and feet ending for Bluey. You will use a few lines to make the toes. After that, you will continue to draw your Bluey at step 8.
Step 8 – Finish Your Drawing Mision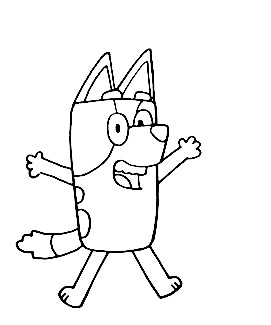 Now, you must finish your drawing task by adding some details for your character. You will draw these details on the left side of the torso. That is tail for Bluey. Now, you get complete Bluey with full body parts as eyes, nose, mouth, hands, legs…..You have more the last coloring step now.
Step 9 – Color Bluey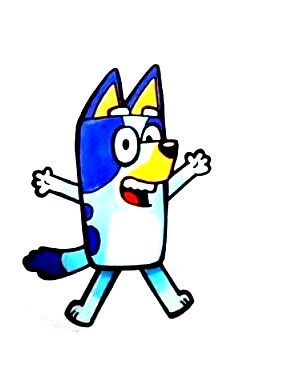 Bluey is similar to blue so we prioritized blue in choosing the color for the character. And then we add some colors such as yellow or green for our Bluey. You can choose any color you like for your Bluey. Because there is no rule in choosing drawing the character. You can take your favorite colors or choose colors that are similar our colors. Once, you get your complete character, you can go to Bluey coloring pages to practice drawing and coloring. We update the hundreds of images related to Bluey and you can choose the character to draw or color in your free time. We have many instructions for free here, if you like our tutorials, don't forget to give us a thumb up and recommend them to your friends! I hope you get a great time! Have fun!
DON'T MISS