Princess Barbie Drawing Is Gotten In 6 Easy Steps
Princess Barbie Drawing Is Created In 6 Simple Steps
You get a chance to create Princess Barbie drawing with our guideBarbie is known as a doll that appeared in the United States in 1959. It is a product by the American toy company Mattel, Inc, and American businesswoman Ruth Handler is credited as Barbie Doll. She used a German doll called Bild Lilli to create her inspiration for creating Barbie Doll. Then, Barbie Doll is well sold on the market, and It has an edge in the market and is one of the most loved girls' toys. Barbie is a favorite brand of dolls and toys for girls. She and her boyfriend, Ken, have been described as the two most popular dolls in the world. Barbie appears not only as a toy. It can also relate to merchandise (accessories, clothes, friends of Barbie, etc.). Then, they made a Princess Barbie movie and were loved very much by audiences, especially the girls. Today, you get an opportunity to learn more about this doll in the how-to-draw Princess Barbie, and we will instruct to draw Princess Barbie. You will follow us and complete a Princess. Not too difficult, but you must concentrate your mind, your passion, and your time to finish your task as soon as possible. You can enjoy Barbie Coloring pages on our site, we update coloring pages for free, and you can come here in your free time.
How To Draw Barbie – Let's Get Started!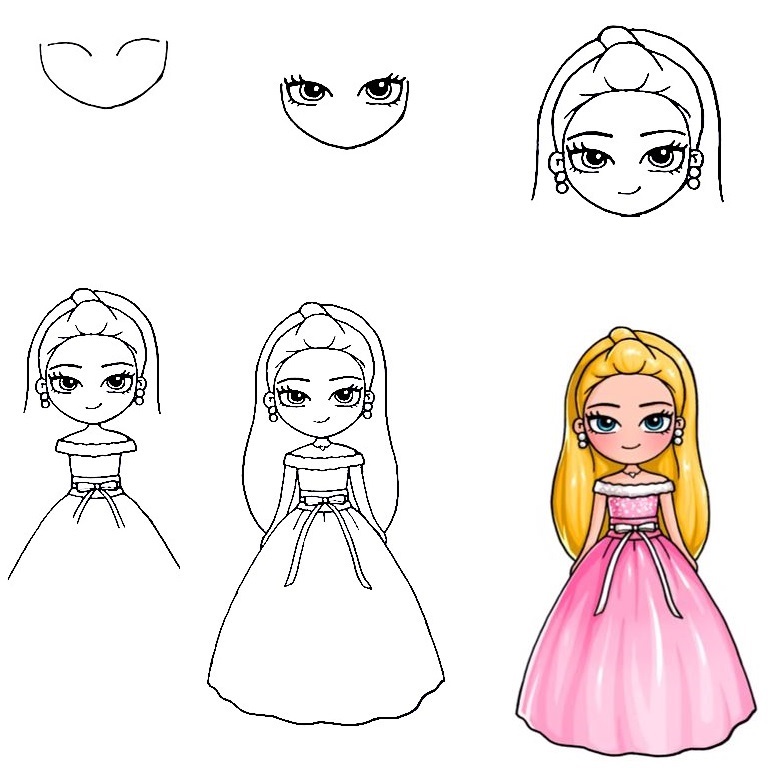 It would be best if you prepared some things like paper, pencil, and colors before drawing. We have six-step instructions, and in each step, we provide the illustrating images. You will follow us and our image to finish your task in each step. You must complete the task of six steps. If you want to learn how to draw Princess Barbie, follow these simple-to-follow steps. I will guide you to drawing with simple geometric shapes, letters, and numbers. Whether you are a beginner or an expert in drawing, with our guide, you will quickly get the Princess Barbie you want. In the course of the drawing, you can add, remove or edit the details that you feel are appropriate to make the picture more complete and more of your characteristics. Once you finish your product, you can refer others to the Barbie Coloring pages on our site for free. Here, you can find hundreds of images related to Princess Barbie. Now, let's get started to draw Princess Barbie with us!
Step 1 – Draw Barbie's Face Outline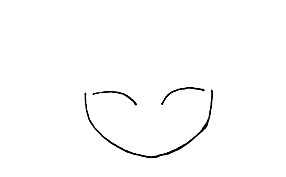 You will draw Barbie's face outline with a simple curve. The curve is almost like the letter v and emphasizes the eyes. Very simple in this step; you finish here and go to step 2.
Step 2 – Draw Barbie's Eyes
For this second step of Princess Barbie drawing, you draw Barbie's eyes with two dots. You can add eyeshades with little curves. Princess Barbie has lovely eyes, so you must show her beauty of eyes with curled eyelashes that make the eyes even more beautiful. Once you have these elements looking as they do in the reference image, you're ready for step 3!
Step 3 – Draw Barbie's Face Details

Now, you will finish all detail for her face. You will add a hairstyle for Princess Barbie, with the hair in the front, the back, and the back, but in this step, we only draw the hair up to the neck; for the rest of the next steps, we will continue to draw. Above the eyes, you add two curves for her eyebrows; the length of the eyebrows will be equal to the size of the eyes so that we will draw the eyebrows equivalent to Barbie's eyes drawn in step 2. Then, you will continue to draw her nose and her mouth with a short curve. You will continue to draw with her ears. You will draw the small ears with the earrings. You will use two small dots for earrings and make her ears more excellent. Those are all tasks in this step, and now you move to step 4.
Step 4 – Draw Neck, Shoulder For Barbie And Design Her Dress
You have some missions in this step of Princes Barbie drawing. From her face, you draw two slight parallel curves to make her neck and draw her shoulder. You will design her a dinky and beautiful off-the-shoulder dress. In the middle of the dress, there will be a belt with a bow, and the dress's bottom will spread out. You can look at our image and follow it!
Step 5 – Finish All Your Drawing Mission
Here, you must finish your drawing mission. You make her hair longer, and then you finish your drawing of her dress as well. In step 4, you create a belt for the dress, and in this step, you must make a complete belt.
Step 6 – Color Princess Barbie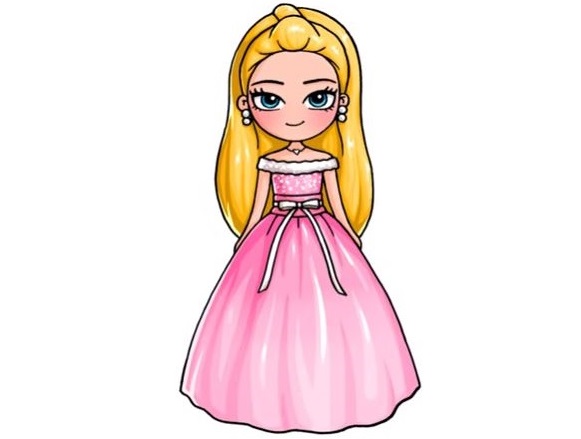 Now, you choose the suitable colors for Princess Barbie. Please take your favorite colors. We take light pink for her dress and blonde skin for her hairstyle. This is her idiosyncrasies. Barbie's hair is always blonde. You can choose any color to make coloring for Princess Barbie.
Princess Barbie Drawing Is Complete!
So, you finish creating a complete Princess Barbie for yourself. This is a toy of the girls. If your girls are big fans of Barbie, please don't hesitate to give them the Barbie Coloring pages. They are an excellent gift, and they can enjoy their free time after the hard-working hours at school. Besides how to draw Barbie, we update many articles daily, and be sure to keep checking our site to make sure you never miss out! You can come here with your friends, relatives, and children. I hope you get a great time here!