Looney Tunes Drawing Is Gotten In 6 Easy Steps
Looney Tunes drawing Is Created In 6 Simple Steps
You will get Looney Tunes drawing with our tutorial. You know that Looney Tunes is an American animated comedy short film produced by Warner Bros. from 1930 to 1969, along with an accompanying series, Merrie Melodies, during the golden age of American animation. In the series, there are many characters such as Bugs Bunny, Daffy Duck, Porky Pig, Elmer Fudd, Wile E. Coyote, the Road Runner, Tweety, Sylvester, Granny, Yosemite Sam, the Tasmanian Devil, Marvin the Martian, Pepé Le Pew, Foghorn Leghorn, Speedy Gonzales, and many other cartoon characters. The series received the attention and love of children and parents. Then, they created a movie basic on those characters, which was shown widely worldwide. Today, you can learn how to draw a Looney Tune on our site with us. We give the instruction and the illustration, and you will follow us. We provide the instruction for free All of the free; they are good drawing tutorials for beginners and experienced artists alike. Our online tutorials are easy to follow; we teach you the how-to-draw basics while showing you how to draw fun cartoon characters step by step. Once you finish your drawing mission, you can enjoy Looney Tunes coloring pages on our site, we update coloring pages daily, and you can refer to them and make coloring.
How To Draw A Looney Tune – Let's Get Started!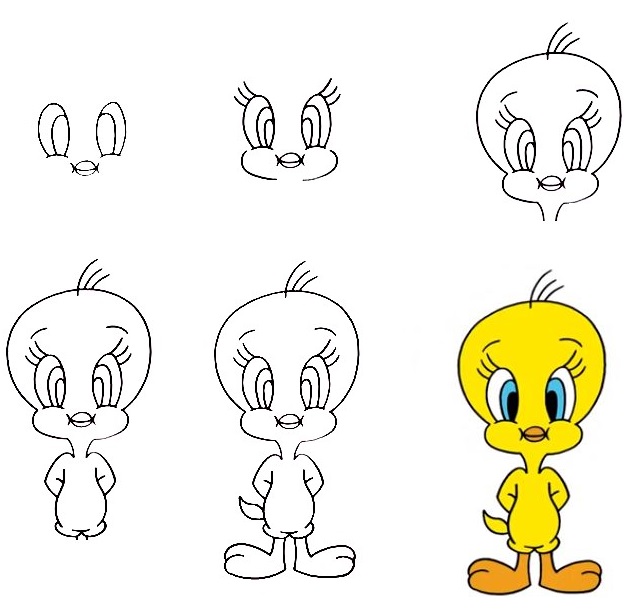 Here, we give the photos and written text to follow. You will go to step by step and finish your task in each step. We have sis step and the illustrating images. You may find it easier to follow the step-by-step drawings below. We explain your mission in the text below the photo, so you'll know exactly what to draw in each step. So, take your time and draw at your own pace. With our instruction, you will follow us and try to finish your task as soon as possible, you can practice this drawing for some time, and you can become an experienced artist in the future. This is a good activity and suitable for everyone. If your kids are big fans of Looney Tunes, please don't hesitate to give them this instruction; you can enjoy Looney Tunes coloring pages and know more about this cute cartoon character in the coloring pages. Now, let's get started drawing a Looney Tune with us!
Step 1 – Draw Eyes And Beak For Looney Tune

You will Sketch Looney Tune's eyes with the oval. You will draw a large oval outside and a small oval inside to make the eyes of your character. Below the eyes, you will draw a beak for Looney Tune with small curves. You can refer to our image and follow us. Once you have these elements looking as they do in the reference image, you're ready for step 2!
Step 2 – Draw Eyelashes And cheeks For Looney Tune

Now you will draw a small inner circle for the eyes to make the real Looney Tunes eyes. Here we draw the opposite face of Looney Tunes, so you will draw its eyes equally. You also can separate the arcs using the initial vertical construction guideline. On both eyes, you will draw short curves to form eyelashes for the eyes. You can finish the task in this step by drawing two curved lines to form the cheeks For Looney Tune. Now, you move to step 3 to continue drawing your Looney Tune.
Step 3 – Draw Face And Head Outline For Looney Tunes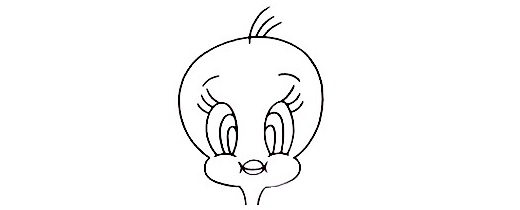 Right now, you must draw an oval around the face to make an outline for the face and for the head. On the head, you add some hair to show his hairstyle as well. You will continue to draw eyebrows with two short curves on your eyes. From the face, you will draw two parallel lines to make a neck for Looney's tune as well. So, you have finished the details for the face and head for Looney Tunes. And now, you will continue to realize your mission in the fourth step.
Step 4 – Draw Looney Tune's Body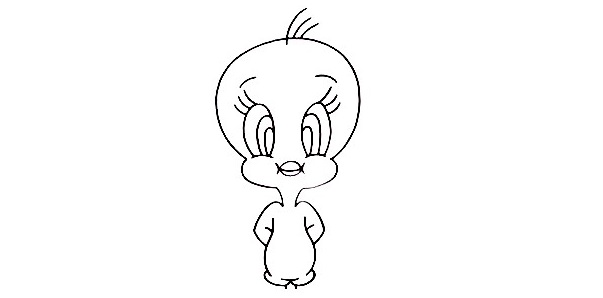 You will continue to draw Looney Tune's body. From the neck, you will draw downward curves showing the arms folded behind the back. Then you will continue to use curved lines showing the shoulders, abs, and back of your character. At the belly will draw a slightly enlarged curve to show a little big belly, and here is the characteristic of your character. That's all there is to it for this step, so when you're happy with the look of it, we shall continue adding to this Looney Tune in the fifth step.
Step 5 – Finish Your Drawing Mission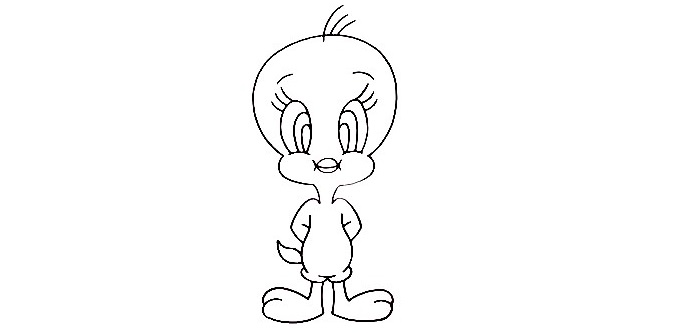 Right now, you must finish all your drawing mission. You will draw legs, feet, and tails for Looney Tune. From the belly, you will draw parallel lines; then you will turn right and left to show the feet. Looney Tune's foot is almost like a duck's foot here. You can divide the foot into two parts, like in our drawing. From also belly, you will draw the small lines and meet at a point to create a tail for Looney Tune.
Step 6 – Color Looney Tunes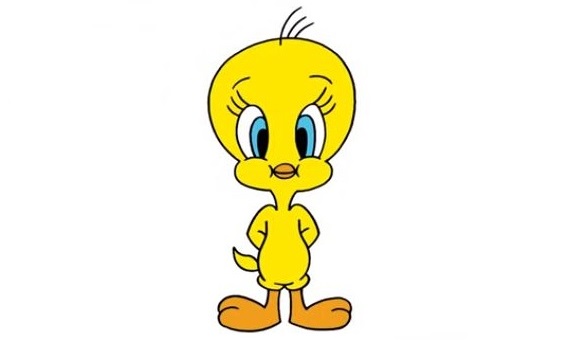 This is the simplest for you. You will use colored pencils, markers, or crayons to make coloring for Looney Tune. Here, we use yellow for Looney Tune's body and dark yellow for the legs, feet, and beak. We choose three colors: white, black, and blue for Looney Tune's eyes. With the hair of Looney Tune, we use black.
Your Looney Tunes Drawing Is Complete!
So, you make complete Looney Tune. Not simple, but not too tricky. You need to concentrate on drawing and coloring and finish your task. In learning, you can be easy to erase if you make a mistake. Please don't worry, and as long as you are passionate about drawing, you can do it. You can recommend our site to your friends, your kids, and your children come here. Besides articles on how to draw, we also have Looney Tunes coloring pages to help you get more information about this character. You can enjoy them after the hard-working hours. I hope you get a great time here! Have fun!