8 Easy Steps To Create A Cute Jellyfish Drawing – How To Draw A Jellyfish
Jellyfish Drawing Is Made in just 8 Simple Steps
You get an opportunity to create a complete jellyfish drawing in eight easy steps with us.
You will find this is not a difficult task if you follow our step by step
We also illustrate each step to help you make the job easier.
There are eight steps equivalent to eight missions that you must finish to get a jellyfish.
Although learning to draw jellyfish is not too difficult, you also need to focus on learning to draw to get good final results.
Jellyfish are one of the many unique creatures that live in the ocean; they are also exciting, with many different shapes and sizes.
With learning about jellyfish, today you know how to draw a jellyfish.
You will also learn more about this adorable creature.
First, prepare all supplies before drawings, such as pen, pencil, colors, paper, and eraser.
Then you will draw jellyfish with pencil and paper; with a pencil sketch, you will easily erase your mistakes and redraw until you feel satisfied with your drawing.
Once you get your jellyfish drawing, you will choose the suitable colors for your product.
Along with learning to draw jellyfish, you will also enjoy jellyfish coloring pages for free on our site; regular drawing and coloring practice will improve your drawing and coloring ability.
Why not? It's completely free here with us.
Let's get started by going to the eight steps of our guide on how to draw a jellyfish.
How To Draw A Jellyfish – Let's Get Started!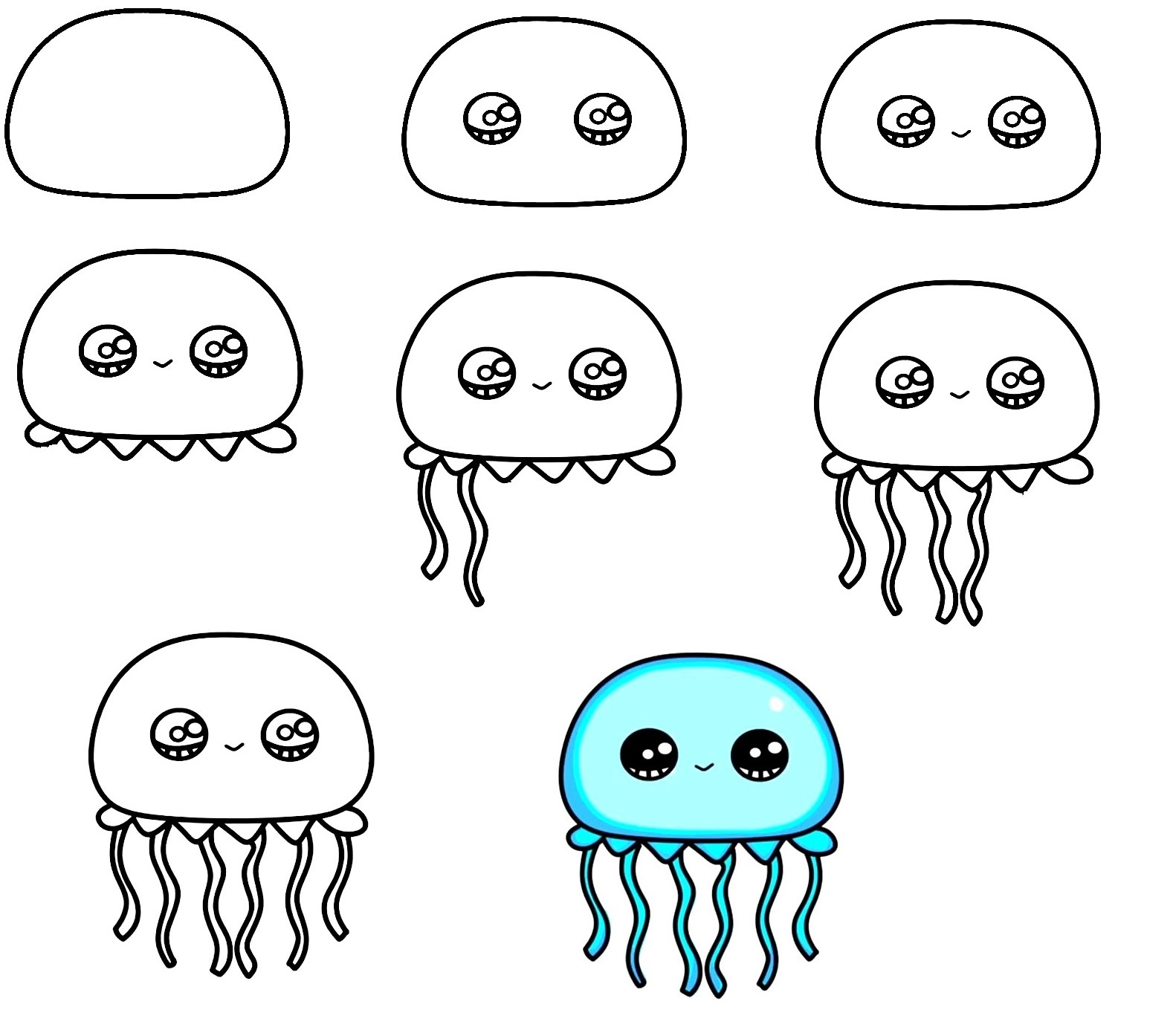 Step 1 – Draw The Jellyfish's Body Outline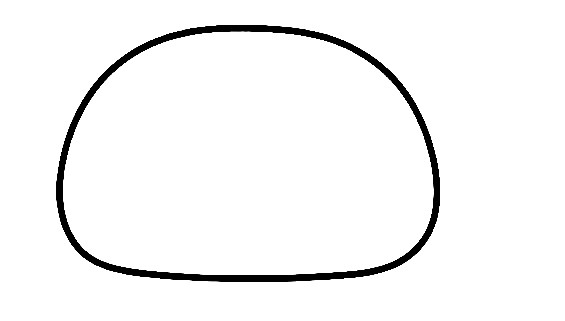 To start realizing your task of our guide on how to draw a jellyfish, you will draw an oval to make its body outline.
You will draw a circle for the top edge of the body, then you can use a straight line for the lower part, and that's it. Once you have it aligned with our reference image, you can move to the second step.
Step 2 – Draw The Jellyfish's Eyes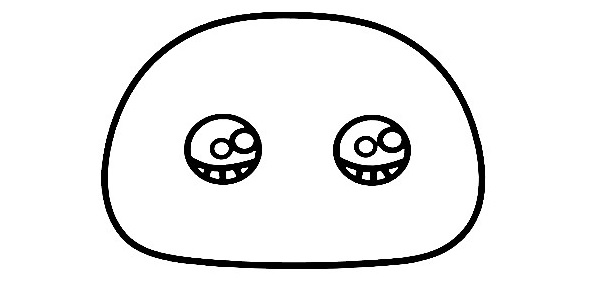 Use two circles to draw two eyes for your fish. Then, you must use the smaller circles to show their pupils, as seen in our reference picture.
Don't forget to draw the eyelashes for the eyes with little lines to make their watches more realistic before going to step 3 of our guide for your jellyfish.
Step 3 – Draw The Jellyfish's Nose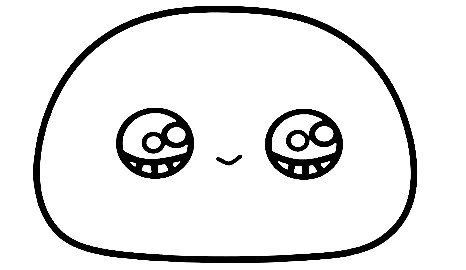 The nose of the jellyfish is drawn very simply, and you need to use a curved line between the eyes, as seen in our reference image.
Once you're happy with your drawing, you can continue your drawing task in the fourth step.
Step 4 – Draw The Base Of The Jellyfish's body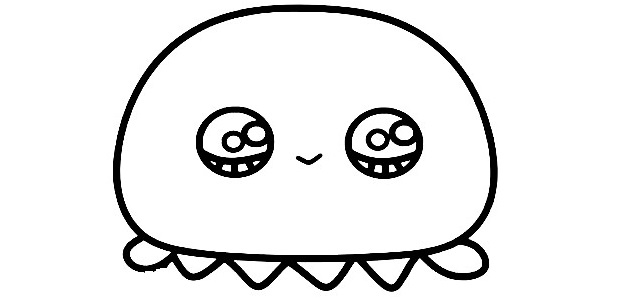 For this step of our guide on how to draw a jellyfish, you must use zigzag lines to draw the base of the jellyfish's body.
The base is drawn outside the jellyfish's body and is also quite simple; you can refer to our illustration to draw.
Step 5 – Draw The First Tentacles Beneath The Jellyfish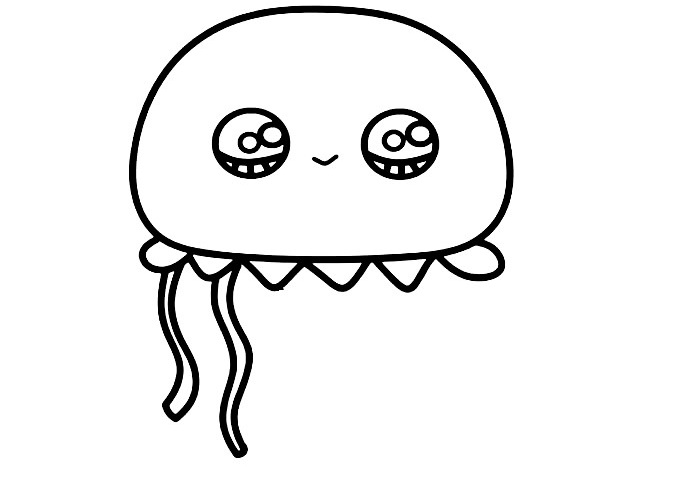 Your task in this fifth step of our guide on how to draw a jellyfish is to draw two tentacles for it.
As you know, jellyfish have tentacles below the body, and now we draw two tentacles for the left side of the body. They are long, thin, and round, as seen in our reference picture.
That's all you need to do, and move on to the next step if you're ready.
Step 6 – Add More Tentacles For Your The Jellyfish Drawing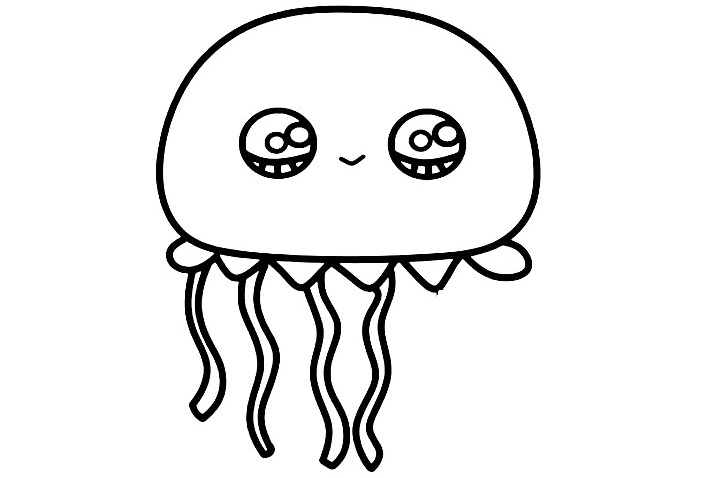 You must add two tentacles for your fish. In this step, you will use the parallel curved line to perform your task.
You will draw two more tentacles next to the two tentacles drawn in the previous step.
Once you have replicated the lines as they appear in our reference image, you're ready to move to step 7!
Step 7 – Draw The Final Tentacles For The Jellyfish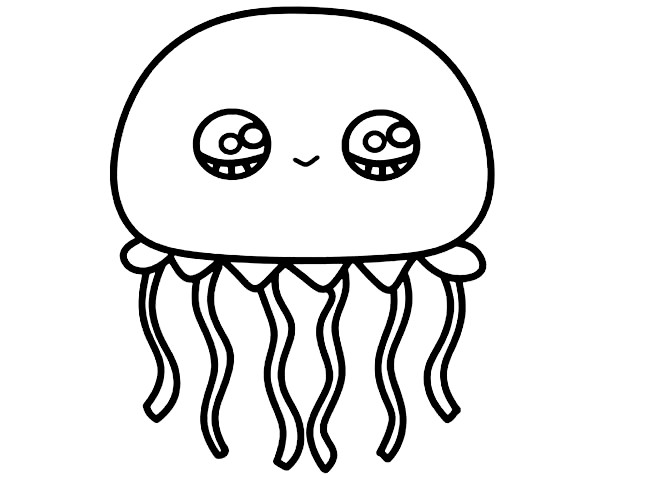 In this seventh step, you must draw the rest of the tentacles for your jellyfish drawing. It means you must draw more tentacles with some curved lines.
Similar to your task in step 5 and step 7, you must use parallel curved lines for this task.
Before moving to the last step for coloring, you can add some details to decorate your fish.
Step 8 – Color Your Jellyfish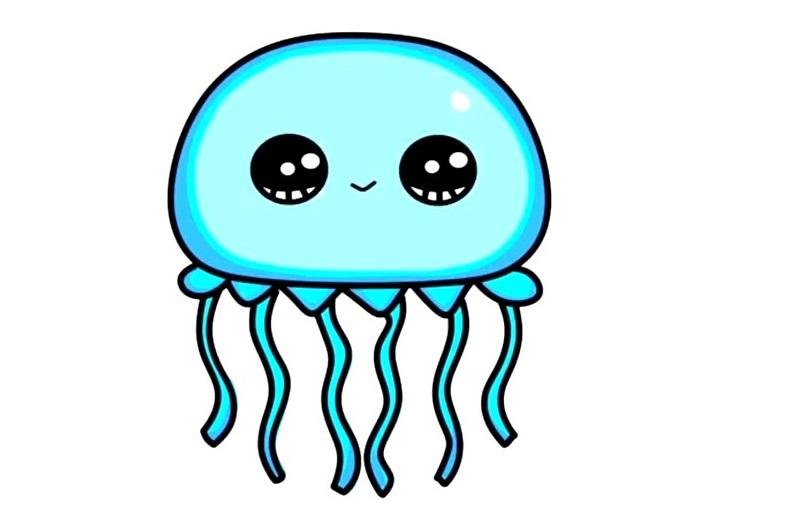 This is the final step of our guide on how to draw a jellyfish. You must choose nice colors for your products. As you see in our reference image, we use green for the body and tentacles and black and white for the eyes. You can use any color you want for your product as long as you like and you think your picture is lovely.
Your Jellyfish Drawing Is Complete
You have completed the task in 8 steps to get the complete jellyfish. I hope you can understand everything we teach to create a great product.
On our website Coloringcool.com, you can enjoy many educational products about coloring pages or drawing guides for free. We upload them daily, and you can come regularly. You can find more drawing guides such as Koi fish drawing, fish drawing or Clownfish drawing. These are guides related to fish drawing tutorials; you can use them for your collective and have fun time.