How To Draw A Gingerbread Man – Six Simple Steps Guide
Who Is The Gingerbread Man
You know that the Gingerbread Man (also known as The Gingerbread Boy) is a folktale about a gingerbread man's escape from various pursuers until his eventual demise between the jaws of a fox. And According to Epicure & Culture, Gingerbread was sacred, and the only time it was allowed to be made by the general public was during Christmas and Easter. So, that's probably why it's seen as a Christmas delicacy. It's all in the timing. And once an association builds, it's just hard to shake. This Christmas, when you eat your Gingerbread (or gingerbread-flavored items, at the very least), think about how this delicious food became such a popular winter favorite. And today, we will give instructions for drawing the gingerbread man. You can learn with your friends, your relatives or your children.
How To Draw The Gingerbread Man – Let's Get Started!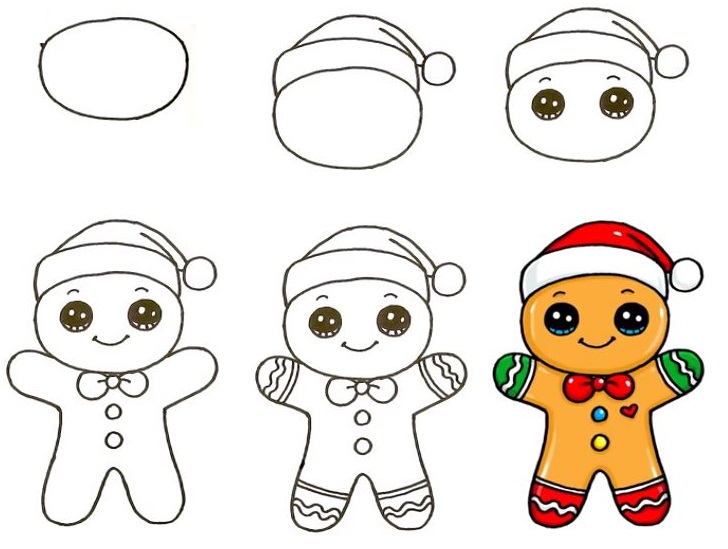 The Gingerbread Man is a cookies type made from Gingerbread, and it has the form of a stylized human. This is an indispensable dish at Christmas, especially for children, they love this cake because of its taste and shape. Now, you can learn how to draw a gingerbread man with six simple steps that we give.
Step 1 – Draw A Oval.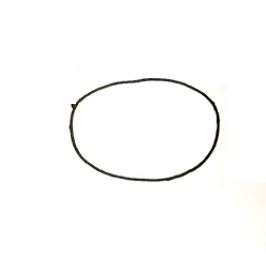 In this step, you draw an oval, which forms the outline of the gingerbread man's head. Not tricky for this step. You will use a pencil and draw an oval. You can remove excess strokes and leave the main strokes to have your work to the fullest.
Step 2 – Draw A Christmas Hat.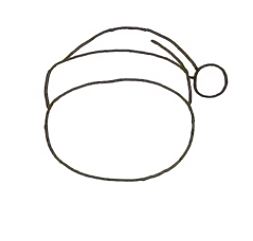 You will draw a hat for the gingerbread man, and here it is, the Santa Claus hat. Not difficult because you can follow our image and draw. Please don't be discouraged and draw with a pencil if you don't feel good you can erase and redraw.
Step 3 – Draw Gingerbread Man's Eyes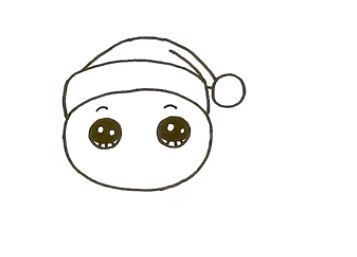 You will draw two dots for Gingerbread Man's eyes. Please look at our image and follow it, you can realize your mission easier. It means that you continue by drawing two small circle shapes to outline the eyes of the gingerbread man. Afterward, draw a curved oval shape with another figure inside parallel to it.
Step 4 – Outline The Clothing of the Gingerbread Man.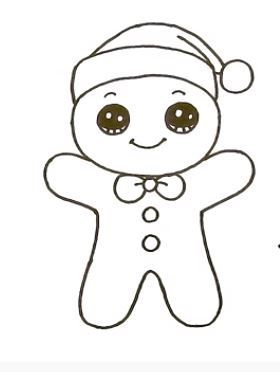 Now, you draw clothes for the gingerbread man, it is Outline the body of the gingerbread man as well. Here, you can follow our image and use a pencil to continue. Similar to the previous step, you can design the gingerbread man's clothing however you like! Don't hesitate to add more style and patterns according to your preference. You can draw clothes for gingerbread men as your fashion style. It doesn't force you to follow any pattern.
Step 5 – Add Some Decorations Details.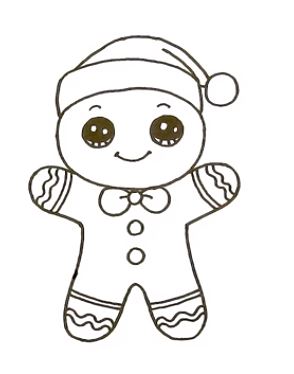 Now, you will add some decorations details for the gingerbread man. Not difficult, you can follow our image and add some necessary detail for him as you like. It is very easy in this step.
Step 6 – Color For Gingerbread Man.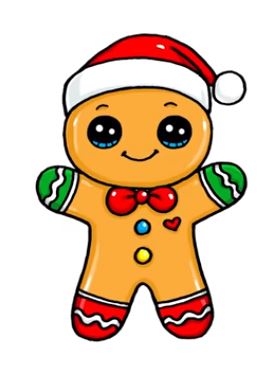 Your task in this step is to choose the suitable color and make coloring for Gingerbread Man. Compared to the previous steps, this step is very simple. Here, we choose red, yellow to make the main colors but you can choose other colors as you like. I hope that you can find a great time here with our drawing.
Please Refer
How To Draw
to learn drawing more coloring pages.