8 Simple Steps To Create A Cute Gecko Drawing – How To Draw A Gecko
Create a Beautiful Gecko Drawing In Eight Easy Steps
Learn how to draw a great gecko with an easy, step-by-step drawing guide and reference images. You can now easily create a nice gecko drawing. There are eight steps equivalent to eight steps. You will follow the instruction and illustrations to create a complete Gecko; you will feel this task very interesting. Moreover, this is our educational product which is updated free of charge for everyone from children to adults who can enjoy them. We also provide easy to difficult leopard gecko drawing tutorials that will make it easy for you to accomplish any task to complete your work, whether you are a beginner or an expert in drawing. Come to our activities to have a comfortable mood, relax your mind through which you will also work more effectively, and life will be better. Your life will also be enhanced. We also need to have fun outside of working time, so this is a good channel, and you can use it whenever you have free time.
How To Draw A Gecko – Let's Get Started!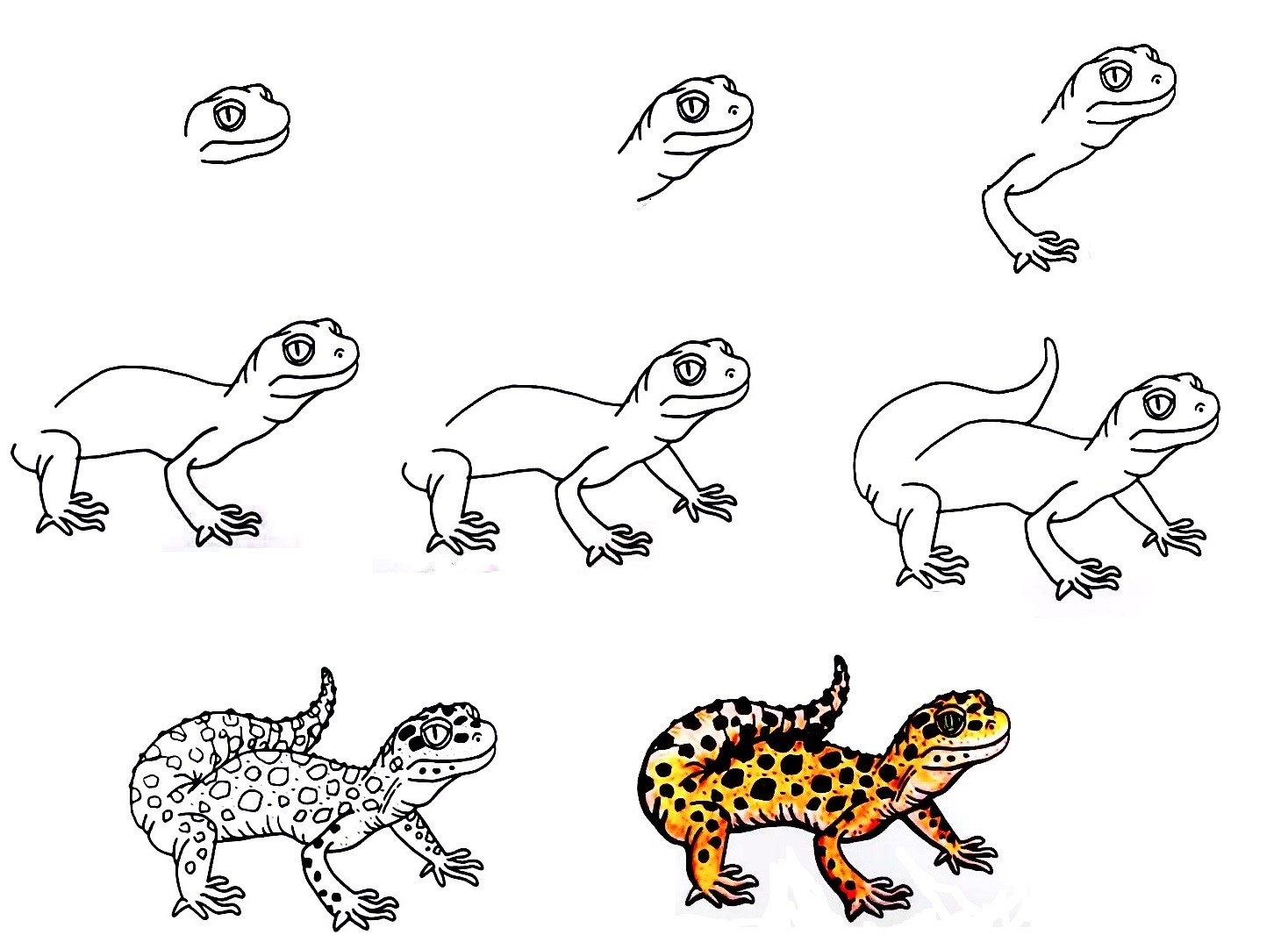 Maybe you don't know. There are more than 1000 species of geckos living in warm environments around the world, and many people keep them as pets. The interesting thing about geckos is that they can regrow their tails if unfortunately, they lose their tails. And geckos don't have eyelids, so they can't blink; they will lick their eyes to prevent dry eyes. Geckos come in different colors, and today you got to draw a leopard gecko with unique spots; and we hope you will enjoy this gecko. Another feature of geckos is that they are nocturnal and eat smaller insects at night; you can also easily find them in bushes or on roofs because geckos live all over the world. Here is some information to help you understand more about this close removal before you start drawing it. You also need to prepare some tools to perform the task for gecko drawings, such as paper, pencil, pen, and eraser. You will start the work on how to draw a gecko with simple sketches of embankment first; then, you will proceed to draw it with more complex strokes. You will complete this task with the final step of choosing a color for your gecko. Included with this gecko drawing tutorial are gecko coloring pages for free on our website to help you practice your drawing and coloring skill. And now, we will go into eight specific steps to draw a gecko.
Step 1 – Draw Head And Face For Gecko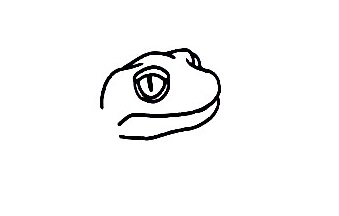 To start work on how to draw a gecko, you will draw its head and face. You use the curved line to sketch the head of the gecko. Then, you draw its face with two eyes and a mouth. You will also use curves to complete the task in this step. This is the first step of your gecko drawing, but it is not simple; you need to focus and be able to follow our reference image before moving to the second step.
Step 2 – Draw The Neck And Nostril For Gecko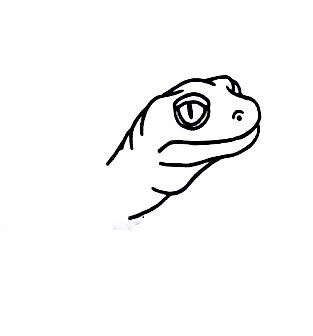 In this second step, you must draw the neck of a gecko. This is also part of the gecko's body. You will use two parallel lines from the head to form its neck. Come back to its face and draw short curved lines around the eye, and shade a small circle to indicate the nostril. Simple, isn't it? You can do it; let's finish it quickly and go to the next step right now!
Step 3 – Draw A Front Leg For The Gecko
Geckos are special reptiles, and they use their toes to stick to surfaces. Their toe pads have Velcro-like bristles called setae. You draw a front leg with two almost parallel lines; next, you draw the foot with small and slightly long toes. Each foot has five toes, and here, you will draw all the toes that a gecko has on its feet. Once you finish off the task here, you will go to the fourth step.
Step 4 – Draw A Back Leg For The Gecko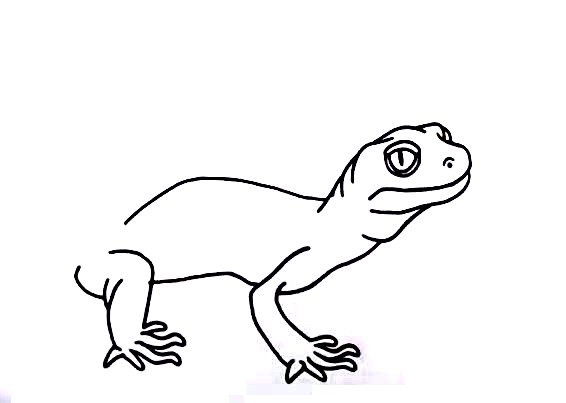 If in step 3 you draw the front leg, then in this fourth step of your gecko drawing, you will draw the back leg for it after completing part of its body. Similar to the front leg, you will also use two parallel lines to form the leg for the gecko and then draw its foot with five toes spread out. You can move to the sixth step now.
Step 5 – Add More A Front Leg For The Gecko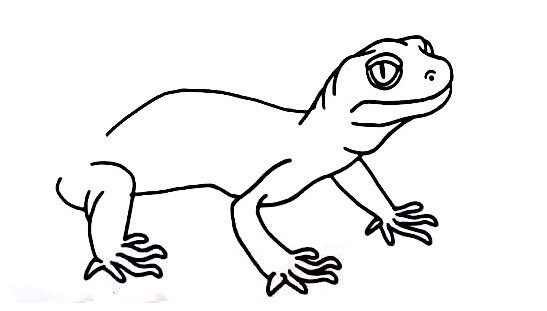 Similar to step 3, it is time to draw the second front leg for the gecko. You will also have a leg with two parallel and feet with clear five toes. Since you are drawing the gecko on the side, we can only see three legs, including two front legs and a back leg, so you have finished drawing the gecko's legs.
Step 6 – Draw The Gecko Tail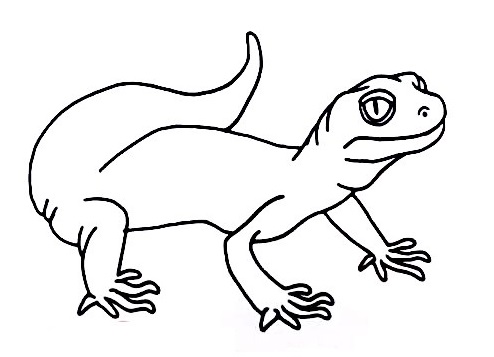 This is the final part of the gecko. You can draw the tail with a long, pointed triangle or maybe with two lines that are almost parallel and meet at a point. As you know, geckos can regrow their tails if their tails are lost. So, you can finish it and move to the seventh of your gecko drawing.
Step 7 – Finish Off Your Drawing Work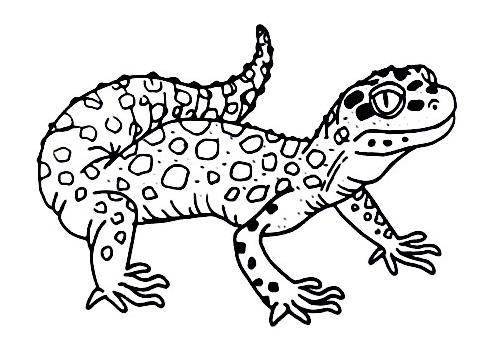 This is time to decorate your gecko. You will draw many spots on the gecko's body, as you see in our illustration. It's amazing you have finished drawing the gecko, and the last step is to color the gecko.
Step 8 – Color Your Gecko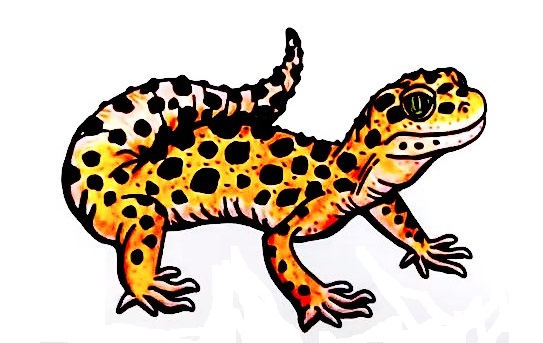 Right now, you are at the last step of your gecko drawing. Your task here is to choose the suitable color for your drawing. As mentioned above, you are drawing a leopard gecko, so you can choose a light yellow color like a leopard for your gecko. You can use different color schemes to get the perfect drawing with your own signature.
Your Gecko Drawing Is Complete
You finish off your drawing and coloring mission on how to draw a gecko with us. We are pleased if you achieve two purposes when giving this guide, you can draw a complete gecko, and you have a good time here. Besides this gecko drawing guide, on our website Coloringcool.com, there are many drawing instructions about the reptiles, such as crocodile drawing or earthworm drawing that we update daily and for free. You can come here each day and recommend your friends as well. If you are a parent, you can join in this drawing activity with your kids; they will surely like it. Have a great time with gecko drawing!