Boar Drawing Is Complete In 9 Easy Steps
Creating a perfect boar drawing in just 9 easy steps
Learn how to draw a boar with our simple step-by-step boar drawing tutorial. You will get a complete boar in nine instruction steps. You will finish them with our tutorial and our illustration because, in each step, we update the illustration to make it easy for you to carry out your tasks. This is not an easy or simple, but it is not too difficult. Concentrating on your time, passion, and mind here would be best. You will get a great time and make your life better. You know that boars are the wild relatives of the domestic pig, sometimes called wild hogs or razorbacks. This tutorial will teach you how to draw one in a few easy steps! Once you finish your task, you can enjoy Boar coloring pages on our website for free. We update new coloring pages daily, and you can come anytime and anywhere with your device connected to the internet.
How To Draw A Boar – Let's Get Started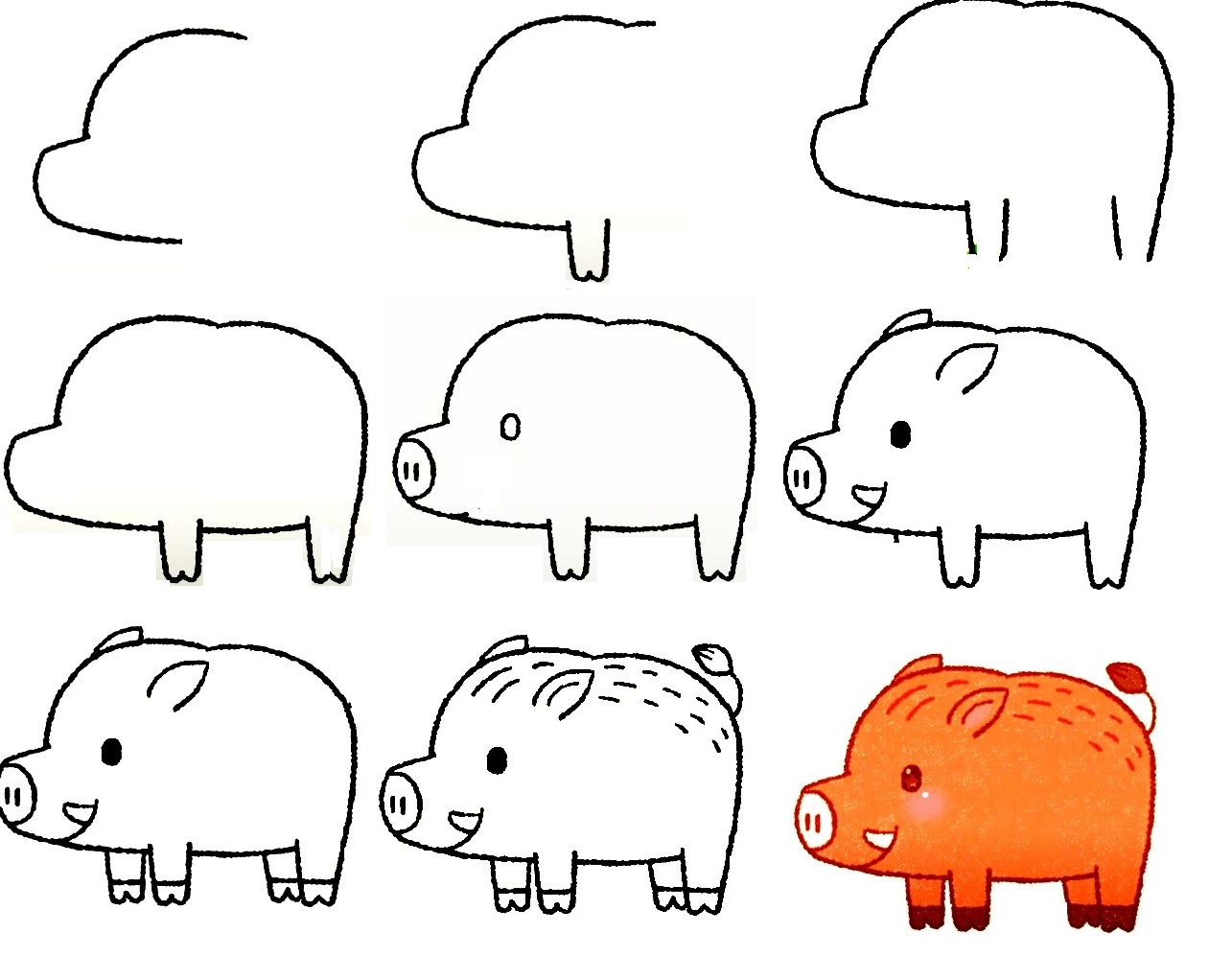 In each step, we explain how to draw a boar, and you will follow us to create a complete boar with your skill. It would help if you prepared a pencil, eraser, colored pencils, and drawing paper before drawing. You will use a pencil to draw on paper. If you're a mistake, you can easily delete it; don't be afraid to be wrong. You will get more drawing experiences in each of our instructions here. Drawing and coloring are good activities; they help you reduce stress and worries to improve your life. This guide will teach you how to draw a boar, with technique tips and suggestions to make your boar as lovely as can be. Whether a beginner or an expert in drawing, you can finish your task and get a perfect boar. Now, let's get started drawing a boar with us!
Step 1 – Draw Boar's Outline

Now, you will sketch a circle and a trapezoid with curved-in sides as shown. You will add faint guidelines for features where the snout will be. You will use straight lines and curved lines to realize this task, and it takes some minutes to finish it and move to step 2.
Step 2 – Draw A Front Leg

Very simple in this step; from drawing in step 1, you use a straight line to draw 1 part of the body, then you draw two parallel straight lines to make a front leg. Once you have these elements looking as they do in the reference image, you're ready for step 3!
Step 3 – Draw A Hind Leg

You will use the curved to draw a rear body part. And as a front leg, you use two parallel straight lines to make a hind leg. . That's all there is to it for this step, so when you're happy with the look of it, we shall continue adding to this boar in the fourth step.
Step 4 – Finish Task At Step 2 And Step 3

In this step, you will finish tasks in step2 and step 3. You use curved lines and straight here to complete the boar body and two legs that you drew in steps 2 and step 3. You will add hooves for legs. And now, you continue your drawing in the fifth step.
Step 5 – Draw Boar's Eye And Snout Outline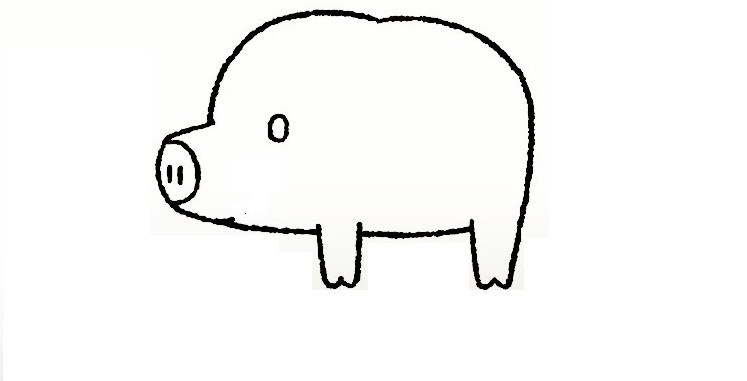 Because you are drawing the boar in a side position, you only see one eye, so here, you only need to sketch one eye for the boar. You draw a small circle to make boar eye, and then you use two small circles for noses and then use a short curved for a boar snout.
Step 6 – Draw Fang And Ears For Boar

Your task in this step is to draw fangs and ears for boar. From the head, you will draw the ears as the triangles. You continue to draw a fang for boar with a pointed triangle. There is a complication in this step, and you can look at our drawing and follow along. You can go to the seventh step now.
Step 7 – Add More Fur And hooves For Boar

Sketch in the fur and figure of the boar. Erase guidelines so that the primary focus becomes the detailing of the body. Also, emphasize the shape hooves more, finish the task for this step and go to step 8.
Step 8 – Finish Your Drawing Mission

In this step, you will finish your mission task by adding a tail for the boar. You will use two parallel to make the tail of the boar. You can add some details for the decorations of the boar as well. The task for this step is easy, it takes some minutes, and you go to the last step.
Step 9 – Color Boar

Now, you must choose suitable colors for the boar. Here is the simplest step for you, and you can choose any color you like for your boar. Or, you choose colors that are similar to our colors. We use light brown for the boar body and dark brown for the hooves of the boar. We also use white for noses and fang of boar.
Your Boar Drawing Is Complete!
So, you finish your boar drawing and coloring mission with our instructions. You will find many interesting things in these simple recreational activities. Why not? We update the tutorial for drawing daily, and be sure to keep checking our site to make sure you never miss out! If you like our tutorials, don't forget to give us a thumb up and recommend them to your friends! You also can enjoy Boar coloring pages for free. We update hundreds of images related to boar here.