How To Draw Aladdin – The Details Instructions
Aladdin is a fictional character and the titular protagonist of Walt Disney Pictures' 31st animated feature of the same name based on Aladdin, a folk tale of Middle Eastern origin. In the film, He is voiced by American actor Scott Weinger, while his singing voice is provided by Brad Kane. When Aladdin is initially introduced, he is eighteen years old. He never received a formal education and has only learned by living on the streets of Agrabah. He has to steal food in the local market to survive. When Aladdin was only an infant, his father, Cassim, left him and his mother to find a better life for his family. Here, you will get an opportunity to know more about Aladdin by learning how to draw Aladdin in this article. You will go to step by step to finish your task. Once you finish your mission, you can refer Aladdin coloring pages on our site as well.
How To Draw Aladdin – Let's Get Started!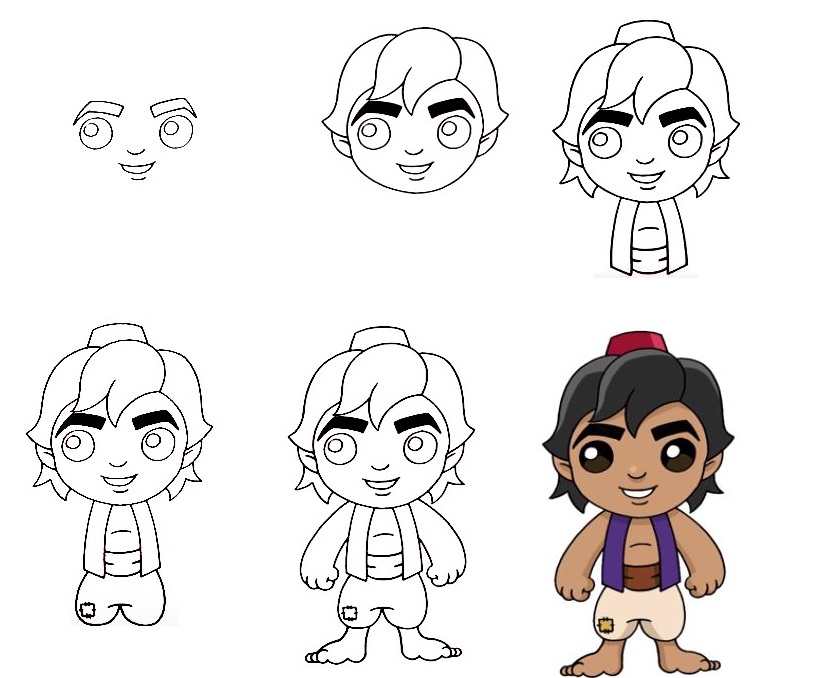 Aladdin is described as a handsome and honest 18-year-old boy. He usually wears a waistcoat and a pair of wide-leg pants. Aladdin was described with large eyes, like those of other Disney heroes, to indicate innocence. The contours of his body are more free-flowing and more rounded than is usual for Disney heroes. He looks like a modern 18-year-old, except for his wardrobe. Aladdin is portrayed as quick-witted and ultimately a caring person. Like most Disney male protagonists, he is a kind, good-natured person. In the movie, he e wears a red fez hat, a purple vest, a baggy cream dhoti (with a patch covering a hole), and goes barefoot; he retains this appearance even in the animated series after his engagement to Jasmine. You can refer Aladdin image on the
Aladdin coloring pages
of our site. We collect hundreds of pictures related to Aladin. You can enjoy them for free with your favorite colors. Now, let's get started to learn how to draw Aladdin.
Step 1 – Draw Aladdin's Face Outline.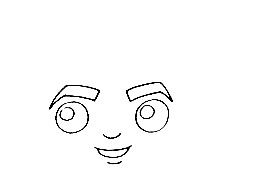 You will start to draw Aladdin with his face outline. You will draw his eyes with two circles, draw a large circle, then draw a small circle inside to represent the eye's pupil, draw the other eye in the same way as you have finished drawing the eyes for Aladdin. On the eyes draw parallel curves that are Aladdin's eyebrows. Below the sights, you will draw a short turn, and you draw a sharp curve showing his nose. below his nose, draw a triangle that is his mouth.
Step 2- Draw Hairs, Ears For Aladdin.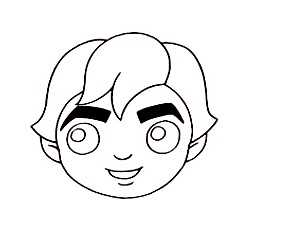 Then, you will draw the short curves for his hair, and he has nice and bouncy hair, so please remove the hairs with unequal angles. From the head, you will attract the small circles for two years. Part of her ear is covered by her hair, so you can only remove part of his ear. In this step, you use black to color for Aladdin's eyebrow.
Step 3 – Draw The Upper Half of Aladdin's Body.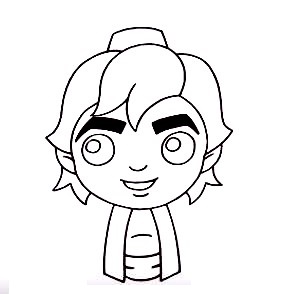 From the top, you draw extending down to show Aladdin's shirt, chest, and belly. It is simple in this step, so you can observe our image and follow it. Please don't forget to add ahead on his head. That's all there is to it for this step, so when you're happy with the look of it, we shall continue adding to this character in the fourth step.
Step 4 – Draw Aladdin's Pants.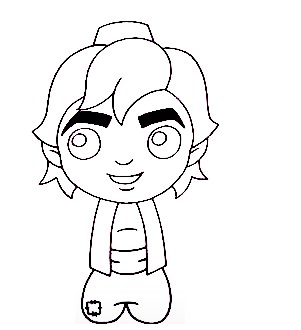 You will draw two wide-leg pants of Aladdin in this step. You draw parallel curves and meet at a point called Aladdin's trouser leg. You remove the rest of his pant leg precisely the same. That's your task at this step, and now you move to step 5.
Step 5 – Finish Your Drawing Mission.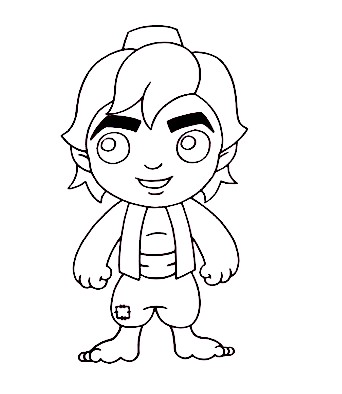 You must finish your drawing mission here. You will add his legs. Then you also add his arms. You draw parallel curves and meet at hand or foot; you will finish drawing the arms and legs for Aladin. Now that you have completed your Aladdin drawing. You have more last coloring steps now.
Step 6 – Color Aladdin.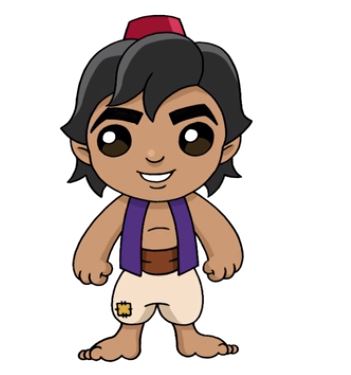 You will choose the suitable to make coloring for Aladdin. We take red for his hat, black for hairs, eyes, eyebrows, white for pants, light pink for his skin. And you can choose your favorite colors to make coloring for Aladdin. Once you complete Aladdin, you can move
Aladdin coloring pages
to enjoy images. You will select colors and make coloring for them. If your children are a big of Aladdin, please don't hesitate to give Aladin ideas for your children/. I hope you get a great time here.