Vampirina Drawing Is Complete In 9 Easy Steps
Creating Cute Vampirina drawing in just 9 easy steps
Follow this easy how to draw Vampirina step by step tutorial, and you will have your Vampirina drawing finished in no time. You will follow our tutorial to make the complete Vampirina. Very interesting with the drawing mission, you get a great time here to relax. This activity is suitable for everyone, from children to adults. You can learn this activity with your kids if you are a parent. In participating in this entertainment channel, your kids can avoid using technical devices like television, tablets, and smartphone,…they are not good for their eyes and their evolution. Why not? It is free on our website. You can come here to enjoy anywhere and anytime with devices connecting to the internet. You will go to step by step to create a complete Vampirina with your drawing and coloring skill. Whether you are a novice or an expert in drawing, we're sure you can surely follow these steps effortlessly. Along with the tutorial, we have also included a couple of free Vampirina coloring pages that you can print off and give to your kids to color! You can become a real artist in this Vampirina tutorial.
How To Draw Vampirina – Let's Get Started!
You know that Vampirina is a Disney Junior show based on the Vampirina Ballerina series of books by Anne Marie Pace. The story tells of a young vampire girl, who becomes the new kid in town when her family moves from Transylvania, Romania, to Pennsylvania to open a local bed and breakfast called the Scare B&B for visiting ghouls and goblins. This is the favorite character of the audience, especially children. They want to show Vampirina drawing, but not everyone can draw this character. And today, we will help you to realize your dream of drawing Vampirina with your skill. You must prepare some things such as paper, pencil, and colors before drawing, and you will use your pencil to draw on the paper; you can erase your mistakes quickly, so, don't be afraid to draw; please draw in the most comfortable mood you have. Our guide goes from easy to difficult; you will realize your task until finishing the task. Now, let's get started drawing Vampirina with us!
Step 1 – Draw Vampirina's Eyes

Vampirina's eyes are then made of two small ovals with a dot inside each one. Then you add eyelashes with short straight lines. You use black to color pupils and lets some white spaces to make it more real and interesting for her eyes. Once you have these elements looking as they do in the reference image, you're ready for step 2!
Step 2 – Draw Vampirina's Eyebrows

In this step, you must draw her eyebrows; you will draw two parallel curved lines and then connect them at the bottom with a flat line. They make the eyebrows. Very simple task for you here; you spend some minutes before moving to the third step.
Step 3 – Draw Vampirina's Nose

Moving on to the nose and the lips, draw a line forming a semicircle to create the nose. It's simple, isn't it? You use curves to show it, make a lovely nose for her.
Step 4 – Draw Vampirina's Nose

Then, draw a wide upward curved line to meet a curved line on it to put a wide smile on the woman's face. Then, draw a wide upward curved line to meet a curved line on it to put a wide smile on the woman's face. Don't forget to draw the tongue and two fangs in the mouth for the Vampirina.
Step 5 – Draw Face Outline And Ears For Vampirina

You draw an upright oval shape on the upper middle portion of your paper. This outlines the head or the face of Vampirina. On each side of the face, you draw a curved line similar to a backward letter C on the right side of the head as a guide for Vampirina's ear.
Step 6 – Draw Vampirina's Hair

Her hair is very cute. you draw two ponytails for the two sides, and you can look at our illustration and follow it. It's not too difficult to do the task in this step, and you can complete the Vampirina's hair within a few minutes before moving on to the next step.
Step 7 – Draw Body And Arm Of Vampirina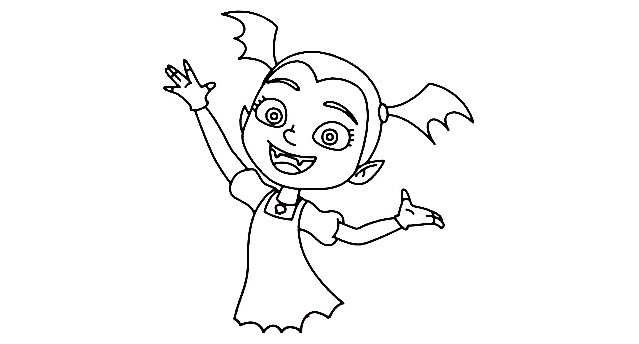 You will draw two parallel straight lines to make her neck, then draw to arms and the fingers, and you will continue drawing your character with her body. You draw a nice dress to make the body. As you see in our image, her dress is simple but very nice.
Step 8 – Finish Your Drawing Mission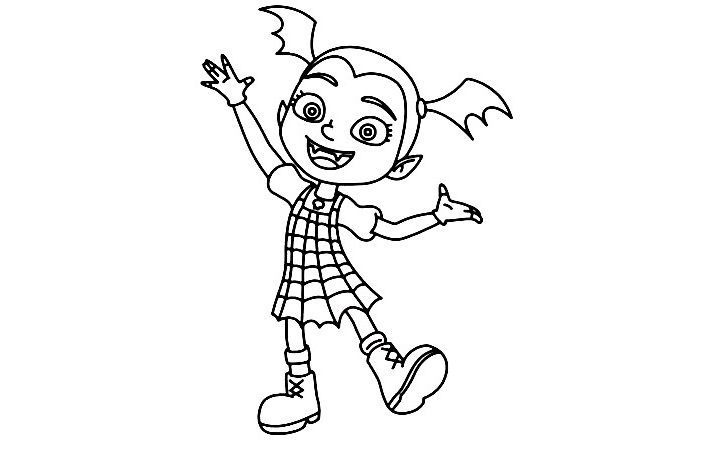 You will finish your drawing mission in this step. Here, you draw her legs. You will draw two parallel straight lines downward and finish with a pair of shoes, as in our images. Please don't forget to draw her socks. So, you finish your drawing with complete Vampirina; you have more of the last step for coloring.
Step 9 – Color Your Vampirina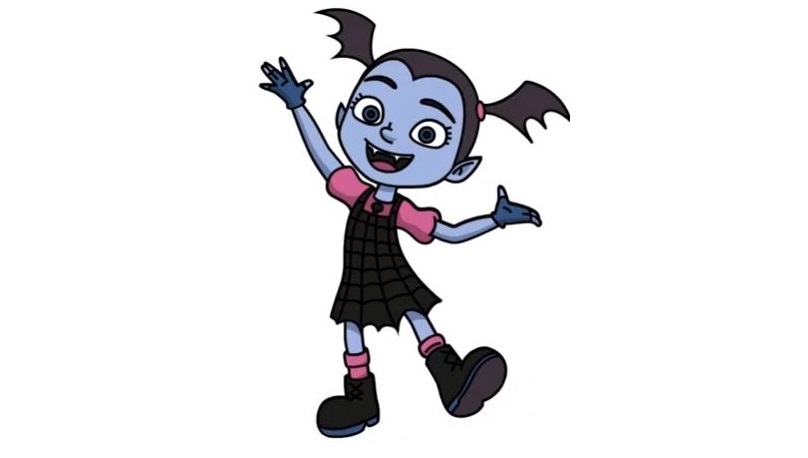 You will choose the suitable colors for your character, Vampirina. There are no rules in the choice for drawing, so you can make any color for your products. You can use your favorite color or choose the same colors as us. The very simple task now, we use dark brown for eyes, shoes, and dress, dark blue for gloves,, pink for shirts and socks, and black for eyes and eyebrows. You finish your drawing and coloring for Vampira. We hope you learned how to drawVampirina with the help of this step-by-step tutorial. We're sure you can incorporate what you have learned in your future drawings. This is an amazing place to relax. Once you get your character, and you can move to Vampirina coloring pages to enjoy many images related to Vampirina here. Have a fun time here!
Use the video and step-by-step drawing instructions below to learn how to draw Vampirina. Thanks for visiting! Subscribe to the How To Draw YouTube Channel for our new tutorial.