Tomato Drawing Is Created In 6 Easy Steps
Creating a cute tomato drawing in just 6 easy steps
I will show you how to make a tomato drawing in this tutorial. You will follow our guide and create a complete tomato with your drawing skill. We instruct six steps. The tomato is a great drawing object. This vegetable is very popular, and we always use tomato in the ripening season; we also constantly use tomato processed products – tomato paste, sauce, or ketchup. Each person will choose their channel for entertainment in their free time. why not choose our free coloring channel? You will be free to discover interesting things about learning to draw. We will give the tutorial from easy to difficult, and you can finish tasks easily whether you are a beginner or an expert in drawing. You will spend 20 to 25 minutes on this lesson and make your own tomato. With this drawing guide, we also have tomato coloring pages on our site where you can enjoy images related to tomatoes.
How To Draw A Tomato – Let's Get Started!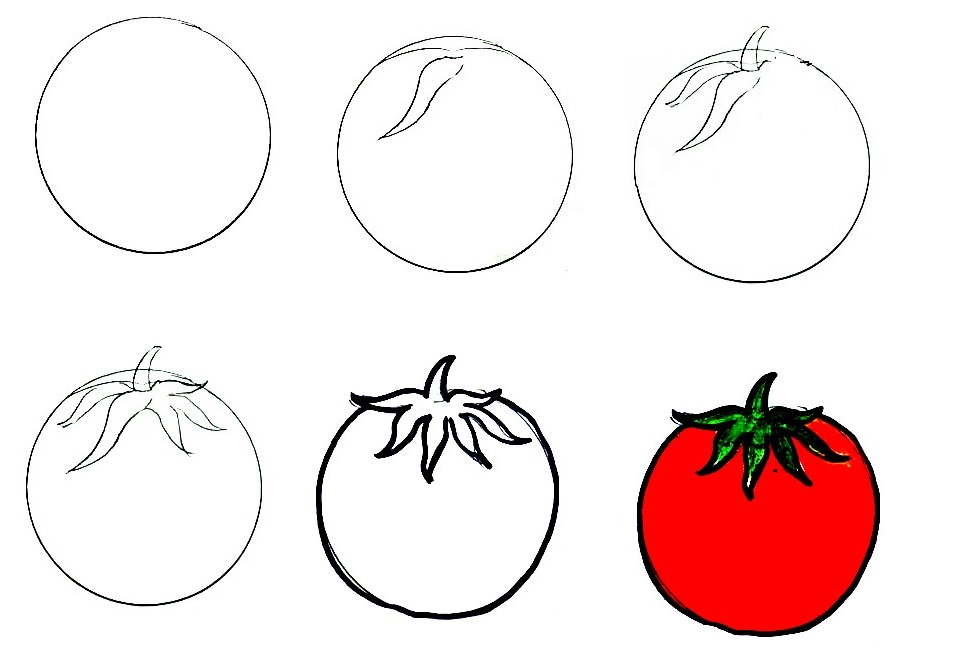 You must prepare some things like a pencil, pen, paper, color, crayon,…before drawing. You will go to step by step until you finish your work. You use a pencil to draw on paper, and in the course of drawing, you can erase your mistakes easily. So, please don't be afraid to draw; you can draw in your comfortable way. This is not an easy task, but it is not too difficult; you can draw and paint slowly until you have completed all the necessary strokes to create a perfect product. This is an interesting task, and everyone like it. If you are a parent, you can learn this drawing with your kids because you need to give your kids a good entertainment channel they enjoy after hours at school; they will work more effectively. More they can avoid using technical equipment such as television, tablets, and smartphones, ..they are not good for their eyes and evolution. Now, let's started to draw a tomato with us!
Step 1 – Draw A Tomato Outline

To start in the guide on how to draw a tomato, you determine the location and size of the tomato and draw a circle. You can draw by hand or use your compass to draw a perfect circle. So, you finish the first step in the drawing of the tomato and now move to the second step.
Step 2 – Start Drawing The Tomato's Stalk

On the tomato, you begin to draw the stalk for the tomato. You use a few short curved lines to depict the leaves of the stalk. It is simple for you in this step; you can see our illustration and follow it. This step you have only done so far, and you will continue to draw tomato stalks in the next step.
Step 3 – Continue Drawing The Tomato's Stalk

You will continue working with the tomato stalk you are drawing in progress in step 2. You draw a stalk with two parallel straight lines and with a flat line to connect. Then you continue to use the curved lines for leaves for the stalk. So you are almost done with the stem and on the tomato; you will continue this task in the next step.
Step 4 – Finish Drawing The Tomato's Stalk

You finish the mission for the tomato's stalk in this step. You're done with the stem and leaf tomato in this step. Not too difficult is it, you can finish our tutorial comfortably and just practice a few times, and you will find it much easier. You can finish your drawing mission in the fifth step.
Step 5 – Finish Your Drawing Mission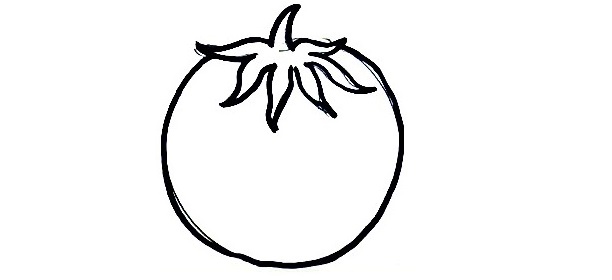 With this step, you finish the drawing task. You add some details for decoration, Erase the construction lines, and add smaller details, such as the vines. Also, indicate the highlighted areas, as you will want to leave these white when shading. You finish the drawing task and get more than the last step of coloring the tomato.
Step 6 – Color Tomato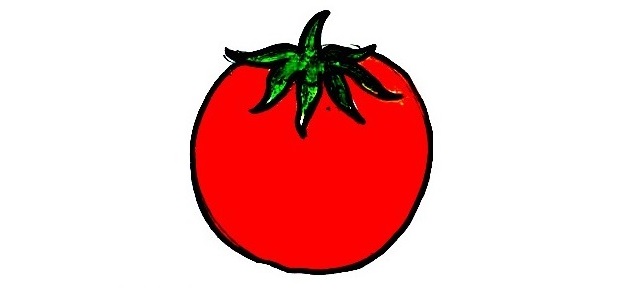 You finish your tomato by adding some color. As you know, tomatoes, when young, are green, ripe, and red, so you can choose green or red for your tomato. We choose red for the tomato and green for the stalk and leaves. It is a simple step for you. You can use many different ways to color tomatoes so that your work becomes the most perfect.
Tomato Drawing Is Complete!
So, you get a complete tomato with your drawing and coloring mission. You can refer to many drawings on our site or tomato coloring pages, and practice your drawing skill with images related to tomatoes. We give the guide details and are suitable for everyone. You can know how to draw a tomato, and you can teach it to your kids.