Super Funny Mickey Mouse Coloring Pages For Kids
Mickey Mouse is a cartoon character created by American cinema. From its birth until now, this cartoon character has attracted a lot of attention and love from children all over the world.
Mickey Mouse Coloring Pages For Kids
Moreover, the characters in the typical cartoon are Mickey Mouse, an image that is too familiar to children through each episode of cartoons that children often watch on TV. Lovely, lovely Mickey Mouse will be great coloring pictures when parents give them to their babies so that they can paint their favorite colors through the character.
Cute, lovely personality, impressive and funny way of creating Mickey Mouse has occupied a part of the childhood of children growing up day by day. Mickey Mouse cartoon brings children moments of relaxation, fun, joy, and comfort while watching. In addition to looking at Mickey Mouse on TV, baby movies also have a lot of stuffed animals bearing the image of Mickey Mouse, cute and funny pictures of Mickey Mouse will help children satisfy their passion for painting.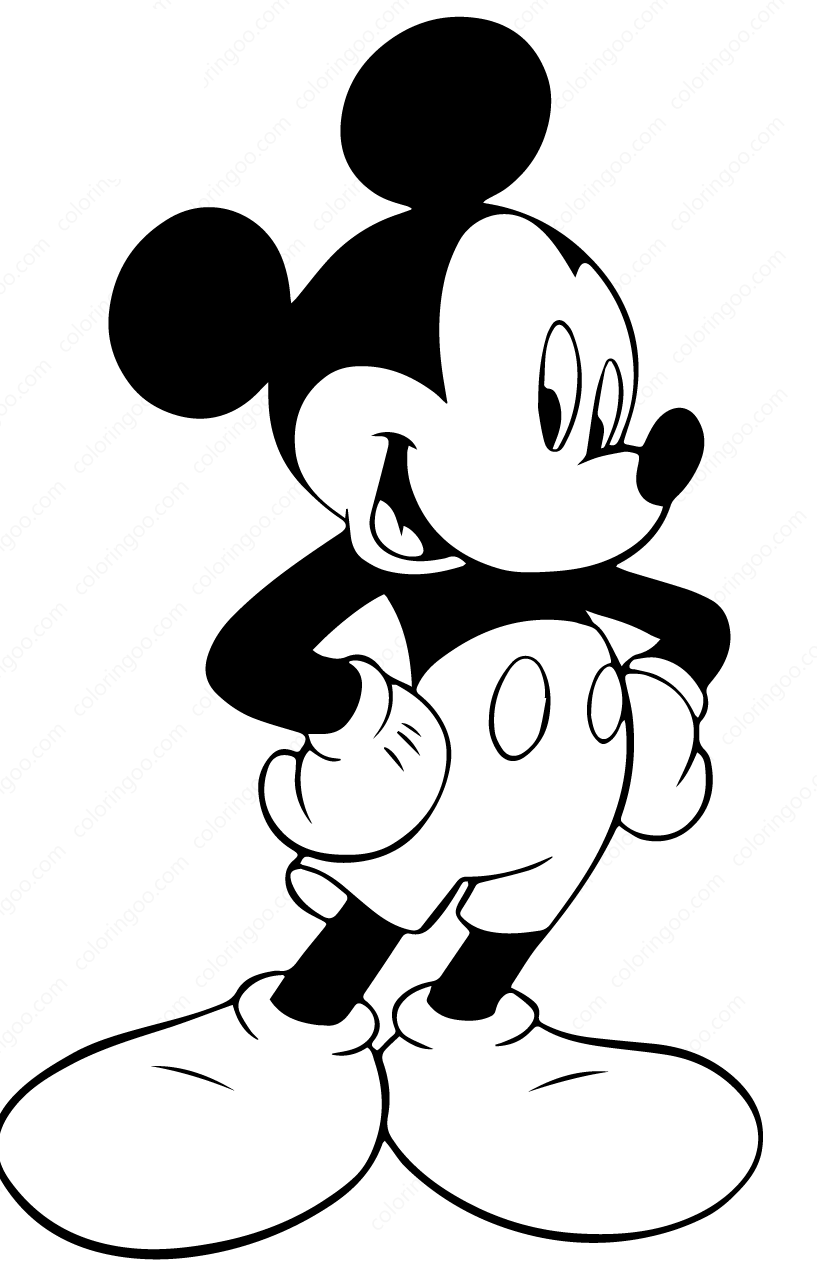 Print Mickey Coloring Pages For Kids
Like other animated movies, cartoon mickey movies attract a lot of young audiences around the world. The lovely mickey character is loved by the little ones. By owning these pictures and coloring the mickey character, the baby will be extremely loved and excited
Just like coloring other types of pictures, through coloring pictures of Mickey Mouse, babies will visualize and recall the images they have seen to associate the colors on the pictures accordingly. Thinking, exploring, and recalling gradually become a habit to help children become smarter, their creativity and thinking ability is also constantly developed.
Color And Download Mickey For Kids Coloring Page
What Are The Benefits Of Mickey Coloring For Kids?
The drawing of Mickey Mouse depicts many witty and humorous details that give children happy feelings along with refreshing laughter to help children be enthusiastic and happy when learning. This makes children's lives more joyful and happy.
Big color Mickey mouse Intellectual development, intelligence
First, coloring themes will make children more aware of all things and events in the world. For example, the owner will color the mickey mouse will help the baby recognize the mickey mouse, practice coloring the fish will help the baby know what the fish looks like and what the color is. Therefore, through coloring topics, children will develop their intellect and intelligence.
Creativity soars high
In fact, the apple will be red, the orange will be orange… then through coloring practice, children will be free to create their own colors. With bananas, the baby will be able to color them green or red. Children do not have to follow a formula for coloring, but they can choose to color whatever color they find interesting. This depends on the child's preferences. So, when learning to paint, your baby's creativity will be constantly developed and parents will surely be surprised!
Color And Download New Mickey For Kids Coloring Page
Gross Motor Is Perfected And Flexible
When learning to paint, children will have to combine gross motor skills between hands and eyes. In addition, the signals in the baby's brain also work. Specifically, when coloring a mickey mouse, children will have to think about what color the Mickey mouse has, what color shape, what color head, what color legs, and choose the right color to color the apple. When the baby's hands paint and the baby's eyes observe, it will help the baby's gross motor be much more flexible and perfect
Develop soft skills
Through coloring lessons, children will perfect and develop soft skills. Through each topic, children will know about that topic, know how to express and describe things and events in the picture. From there, children's soft skills will be perfected to the maximum.
Family Emotional connection
Nowadays, busy life has taken up most of the parents' time. Parents are busy with work to earn money, with outside social relationships, so they do not have close time with their children. This leads to parents and children not understanding each other, which is also very dangerous in the long run. Therefore, through coloring lessons, parents and children can spend more time together. Parents will choose pictures, choose colors, and colors with their children. From there, the relationship will be stronger.
The benefits of coloring are many and parents always want their children to participate in this activity. However, in fact, not all children like to practice painting and also cooperate in painting. There are children when it's time to practice coloring, they often play with crayons or coloring books without even holding a pen to paint.
Therefore, in order for children to be passionate about coloring, parents must have an orientation to direct children to this subject.
Do not stop talking to children during Painting class
To help children be patient during coloring time, parents must stay by the child's side and talk to the child. This will help children feel happier and will be more excited to practice coloring. In addition, when being with children, parents will guide children to add many useful things through coloring practice.
Mickey Coloring Pages For KidsMickey Coloring Pages For Kids
Always change the practice themes

Parents need to constantly change the topic of coloring, in the process of coloring, they should be next to the child to introduce them to the colors and drawings in the coloring picture. If you color fish today, tomorrow will be Doraemon coloring. The ever-changing coloring theme will help your child be more curious and excited.
Tell a compelling story
In addition, in order for the child to feel excited and look forward to the coloring time, parents should prepare a small story on the topic of coloring for the child. For example, if the topic of coloring and coloring apples, parents should incorporate more stories about apples such as How is an apple good for health, what vitamins do apples contain, and how does an apple help? children what… When led like this, children will focus more on painting of Mickey Mouse Coloring Pages.