Collection Of Naruto Coloring Pages For Kids
Naruto cartoon is a movie that is loved by many people, especially children. The story revolves around a brave boy Naruto who lost his parents at a young age. The boy has a burning dream to become a superhero, a Ninja possessing extraordinary powers. And today, the little ones will enjoy the most beautiful Naruto coloring pictures
Naruto is a manga series created by Kishimoto Masashi. The work tells the story of Naruto Uzumaki, a young ninja who always wants to find a way to assert himself to be recognized by everyone and has a dream of becoming the village leader Hokage. The story is told in two parts – the first is set a few years before Naruto's teenage years and the second is in Naruto's teenage years. The series is based on Kishimoto's two Yomikiri: Karakuri, which helped Kishimoto win Shueisha's monthly Hop Step Award in subsequent years, and Naruto.
Naruto Coloring Pages For Kids
About Naruto Film
Naruto was serialized in Weekly Shōnen Jump, Shueisha's magazine from 1999 to 2014, and was packaged in tankōbon with 72 volumes. The manga inspired an anime series co-produced by Pierrot and Aniplex, which had a total of 220 episodes that aired in Japan from 2002 to 2007; The English-language adaptation of the series aired on Cartoon Network and YTV from 2005 to 2009, while the Vietnamese dubbed version of the series aired on HTV3 from 2014 to 2016 and POPS Worldwide released on digital platforms. with a new Vietnamese dub from December 2020. The series' sequel, Naruto: Shippuden, premiered in Japan in 2007 and ended in 2017, after 500 episodes. The English adaptation aired on Disney XD from 2009 to 2011 with the first 98 episodes, and then moved to Adult Swim's Toonami slot in January 2014, starting with episode one. The English adaptation continues to air weekly on Adult Swim. The Vietnamese dub version of the series aired on HTV3 in 2016 and 2017 with the first 196 episodes. In addition to the anime series, Pierrot is also developing eleven feature films and twelve OVAs. Other Naruto-related franchises include light novels, video games, and trading cards developed by different companies.
Viz Media licensed manga and anime in North America and serialized Naruto in their digital Weekly Shonen Jump magazine. The anime series began airing in the United States and Canada in 2005 and in the United Kingdom and Australia in 2006 and 2007. The movies and most OVAs from the series were released by Viz, with parts The first film was shown in theaters. Viz Media began streaming the two anime series on their streaming service Neon Alley in December 2012. Naruto's story continues until Naruto's son, Uzumaki Boruto, in Boruto: Naruto Next Generations: Boruto's Wish follows his own ninja path instead of relying on his father.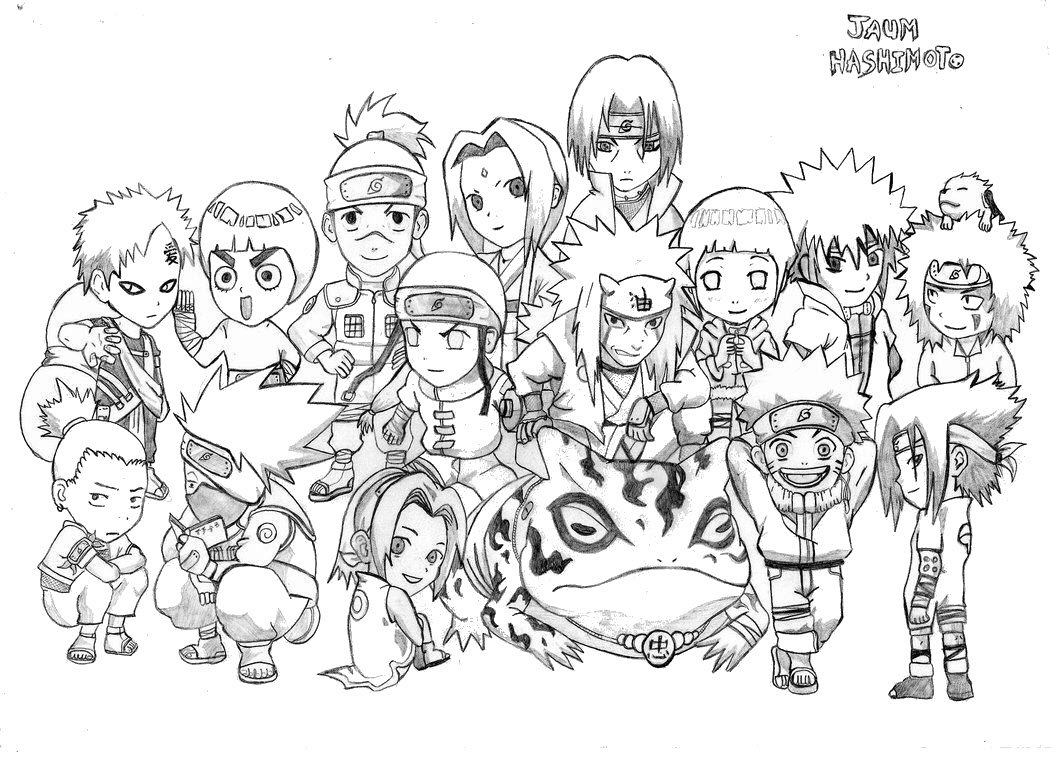 Naruto Coloring Pages For Kids
Naruto is at number four on the best-selling manga list, selling 250 million copies worldwide, with 153 million copies sold in Japan alone and the remaining 97 million copies sold elsewhere. The work became one of Viz Media's best-selling manga series; English translations of the series have appeared on the USA Today and The New York Times bestseller lists, and the seventh volume won a Quill Award in 2006. It was positively reviewed by critics. the manga's character development, strong plot, well-done fight scenes, although the fight scenes slow down the pace of the story. Experts also emphasize that the manga, with its coming-of-age theme, uses cultural references from Japanese mythology and Confucianism.
Naruto Coloring Pages For Kids
Naruto Character
Twelve years before the series began, the Nine-Tailed Fox attacked Konoha. With so much power, it could easily cause a tsunami to rise up and raze mountains with just one of its nine tails. , it caused extreme chaos and killed many people, until the leader of Konoha – the Fourth Hokage (Namikaze Minato) sacrificed himself to seal the monster inside his son – Naruto when he was just born, using forbidden magic: Kin Jutsu Ogi! "Shiki Fuin" (Devil Wind End – a forbidden art at the expense of life). The Fourth Hokage, who was honored for sealing the demon fox, with his eyes closed, wished Naruto to be respected by the people when his body was the place where the monster was located.
Despite this, Naruto had a rough childhood as the people of Konoha relentlessly shunned and abused him, treating Naruto as if he were a demon fox, a potential threat. A rule was put in place by the Third Hokage to forbid anyone from discussing or mentioning the demon fox's attack with anyone, even their own children. Even so, this didn't stop them from seeing him as an outsider and so he grew up an orphan, without family, friends, or any kind of recognition. He couldn't force people to be friends with him, so he had to find a way to get attention and recognition through his pranks and mischief.
However, that all changed when Naruto graduated from the Ninja Academy using the Shadow Clone Technique, a technique he learned from a sealing scroll he was tricked into stealing, to save his teacher, Umino. Iruka, from the traitorous ninja Mizuki. That encounter told Naruto two things: he was the one harboring the Nine-Tails – the nine-tailed fox and that there was still someone who truly cared about him – the Third Hokage. His graduation from the academy opened the door to events that would change and redefine his worldview, including shinobi for the rest of his life.
Naruto Coloring Pages For Kids
Naruto Coloring Pages For Kids
The story follows Naruto's growth and progress with his friends as a ninja and emphasizes their relationship and the influence of the past on the formation of their personalities. His first two companions were Sasuke Uchiha and Sakura Haruno, two young ninjas of the same age assigned to team up with Naruto under the supervision of an experienced teacher named Hatake Kakashi. Throughout the series, Naruto also meets many other characters, gets to know each other, learns new moves, and learns more about other villages. The emphasis on character progression changes the plot, with very few random events. At first, the story mainly revolved around Naruto, Sasuke, and Sakura, members of Team 7. Over time, other characters also began to develop, such as Kakashi, Tsunade, and Jiraiya, as well as people from the same page. same age as Naruto in other villages. The story also features the villains, first being Momochi Zabuza, an exiled ninja from the Misty Village, and his companion, Haku; followed by Orochimaru, an S-rank exiled ninja at the top of Konoha's most wanted list, and his loyal right-hand man, Yakushi Kabuto in the Intermediate Ninja Exam;… In Part II, Sasuke Uchiha leaves Konoha to follow Orochimaru, Naruto decided to bring Sasuke back with his own strength. The story complicated from here, a mysterious organization called Akatsuki began pursuing Naruto to take away the Nine-Tails Fox that was sealed inside him.
The story of Naruto is forever in the heart of every child and through that children love the character Naruto. Coloring for idols will surely make them very interested and excited.