Snow White Coloring Pages And Some Things You Don't Know About This Character
Snow White Coloring Pages And Some Things About Them
Snow White is a fictional character and the main character in Walt Disney Productions' first animated feature film Snow White and the Seven Dwarfs (1937). Snow White is described as a lovely princess with a round, handsome face, skin as white as snow, and hair as black as ebony, especially she is very kind and always helps others. After the king's father died, Snow White had to live with the evil witch. "From that time on the cruel Queen ruled all alone, her every word was law, and all trembled in mortal fear of her anger." The vain Queen owned a magical mirror with which she could look upon whatever she wished. The Magic Mirror shows her familiar demon's haunted, smokey face, which replies to the Queen's requests. She regularly asks the mirror who is the fairest in the realm ("Magic mirror on the wall, who is the fairest one of all?" which is often misquoted as "Mirror mirror on the wall, who is the fairest of them all", and the mirror would always reply that she is. The Queen has magical power only over her domain, the castle, following the Wikipedia.org site. If you have children and they are fans of Snow White, you can give them some Snow White coloring pages, they will paint for her with their favorite colors.
In Snow White and the Seven Dwarfs
In the film, princess Snow White lives with a very evil witch. The witch makes Snow White do all the heavy lifting to avoid Snow White being more beautiful than she is, and a few years later after the magic mirror confirms Snow White is prettier. The witch kicked Snow White out of the house and assigned a hunter to kill Snow White. But the hunter didn't kill Snow White and helped her escape, running into the deep forest to pick up the 7 Dwarfs who happily aid her. But when the evil witch knows that Snow White has survived, she uses magic to disguise herself as an old hag and creates a poisoned apple that will put anyone who eats it into a "Sleeping Death" from which only the kiss of true love will revive. The Seven Dwarfs go out, and the evil witch comes and gives a poisoned apple to Snow White, Snow White takes one bite, and she falls asleep immediately. Seven Dwarfs come back, and upon discovering what had happened, the dwarfs track down the Queen; a short fight ensues, and the Queen is killed. They think that Snow White is dead, they construct an open grave for Snow White to rest on. As time is passed, the princess appears and kisses Snow White, causing her to awaken. Seven Dwarfs are very happy and dance. Since that, Snow White and Prince have gone out and lived happily together. The film has a happy ending.
Snow White Coloring Pages, Characteristics Of Snow White
Snow White is described as a beautiful princess. Her stepmother's Magic Mirror said about her "hair as black as ebony, lips as red as the rose, skin as white as snow. She wears a blue bodice, puffy red and blue striped sleeves, an ankle-length yellow skirt with a self-sewn white petticoat, and a high white collar. Along with yellow shoes, a brown cape with a red interior, and a red bow in her hair. Is innocent, kind, gentle, sweet, and cheerful. Because of her honest nature, the Queen is the evil witch who takes advantage of her and harms her. Although she is sensitive and soft-spoken, she can be energetic and stern, such as when she told the Dwarfs to wash their hands or when she scolded the birds for "frightening the poor old lady (the Queen disguised as an old peddler woman). With her kindness and ethereal beauty, Snow White charms every creature in the kingdom except the Queen. She also shows great resilience and inner strength against adversity.
Description Of Snow White.

In the film, Snow White is depicted with black hair and brown eyes. She wears always subtle make-up and rouge. The red color of her lips and cheeks resembles the red color of the apple which sends her into a deep sleep. This is a teenage girl with short curly hair, a lovely face, and a pure soul. Her plump face shows her kindness to everyone. Because she's a grown-up girl she is always depicted with clumsiness, like getting lost in the woods. The evil Queen pretends to be an old woman giving apples to eat. While both women are depicted as beautiful in the film, the passive, sweet young girl is evaluated as being better than her fierce and cold-mannered stepmother, the Queen or the Witch.

Some paintings of Snow White coloring pages you can download to test your ability to color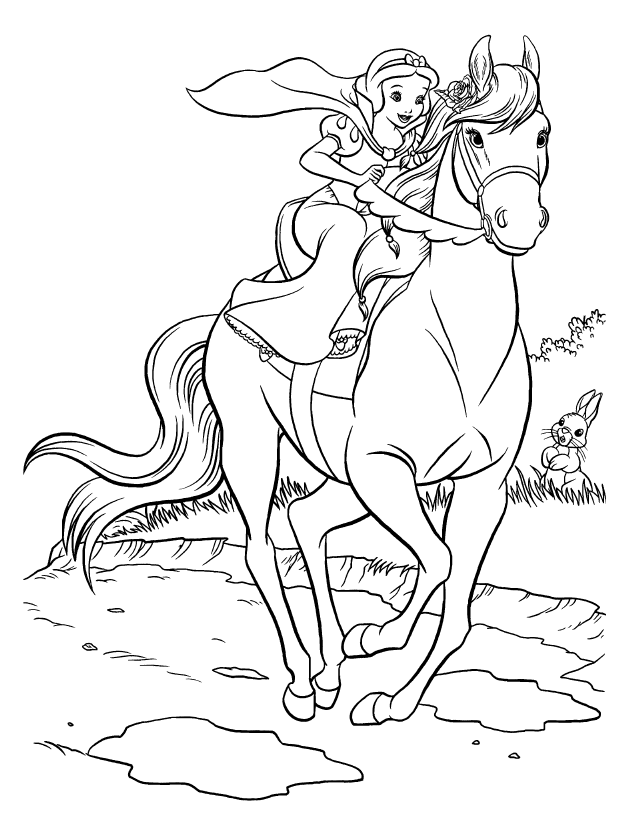 Disney Snow White Rides On Horse Coloring Pages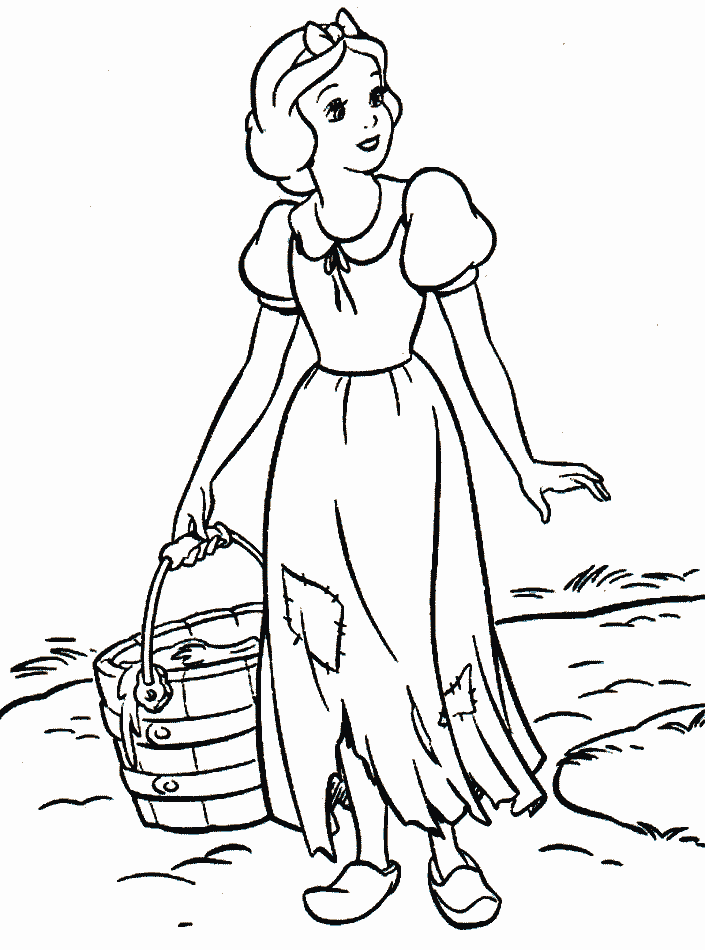 Disney Snow White Walks Coloring Pages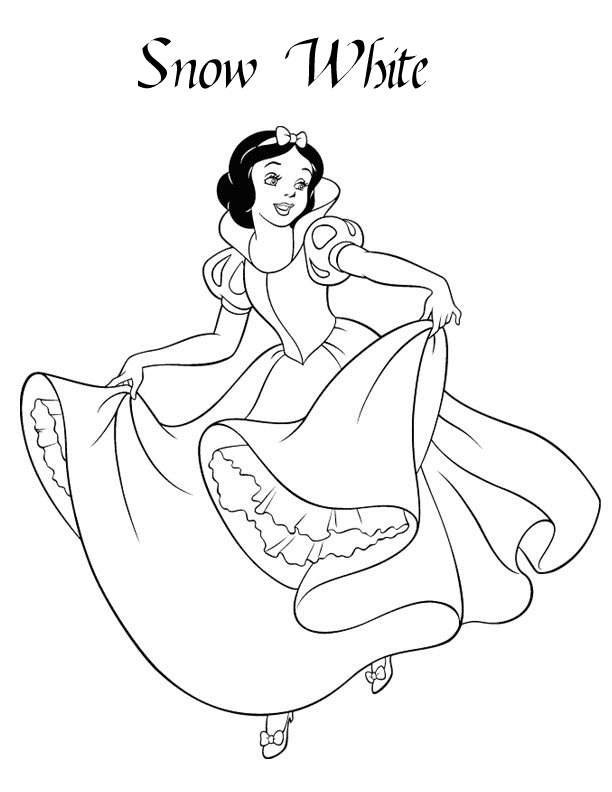 Disney Snow White With Nice Dress Coloring Pages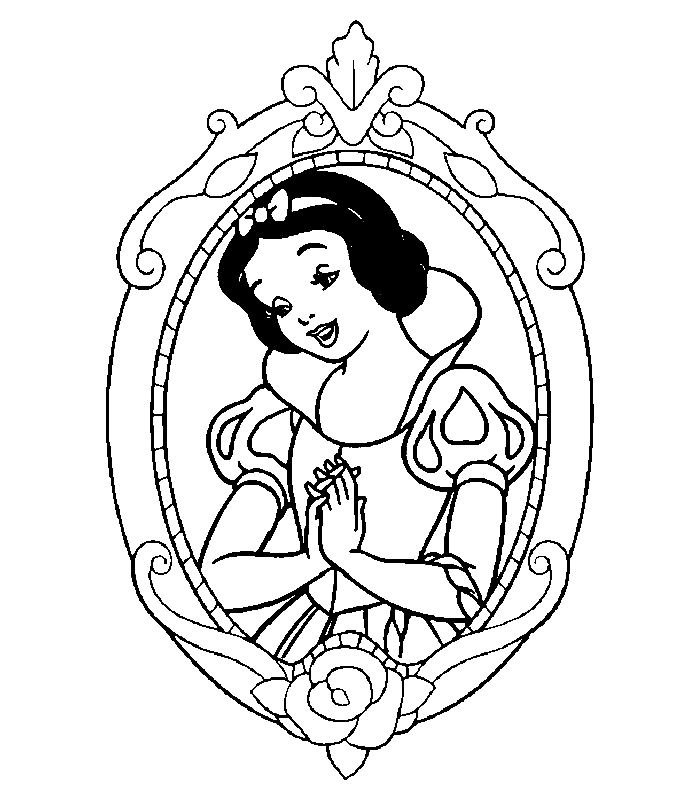 Disney Snow White In Magic Mirror Coloring Pages
Disney Snow White And Bird Coloring Pages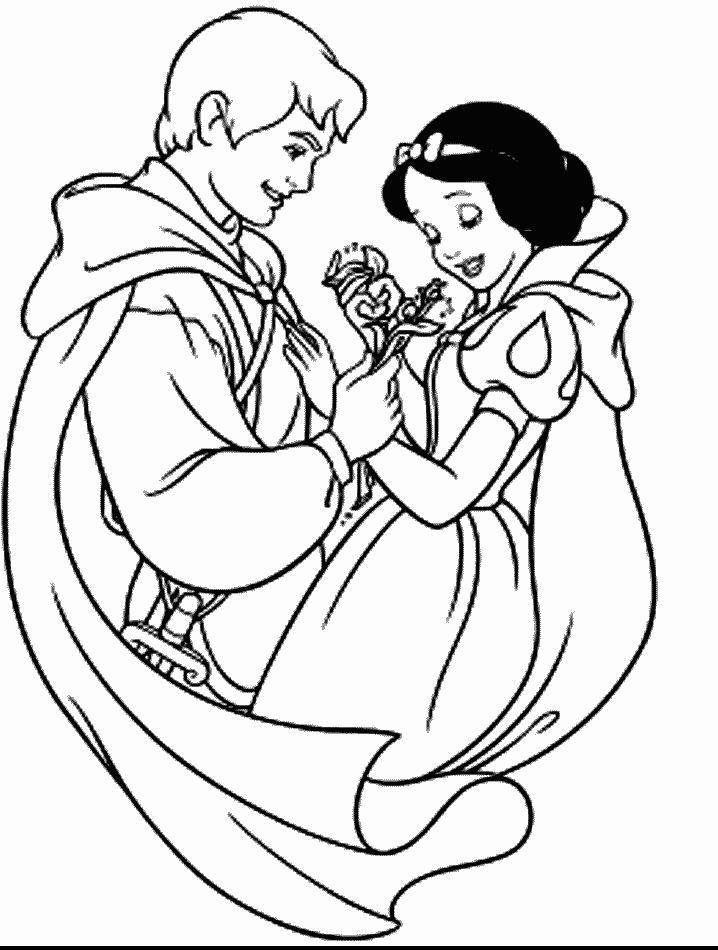 New Disney Snow White And Prince Coloring Pages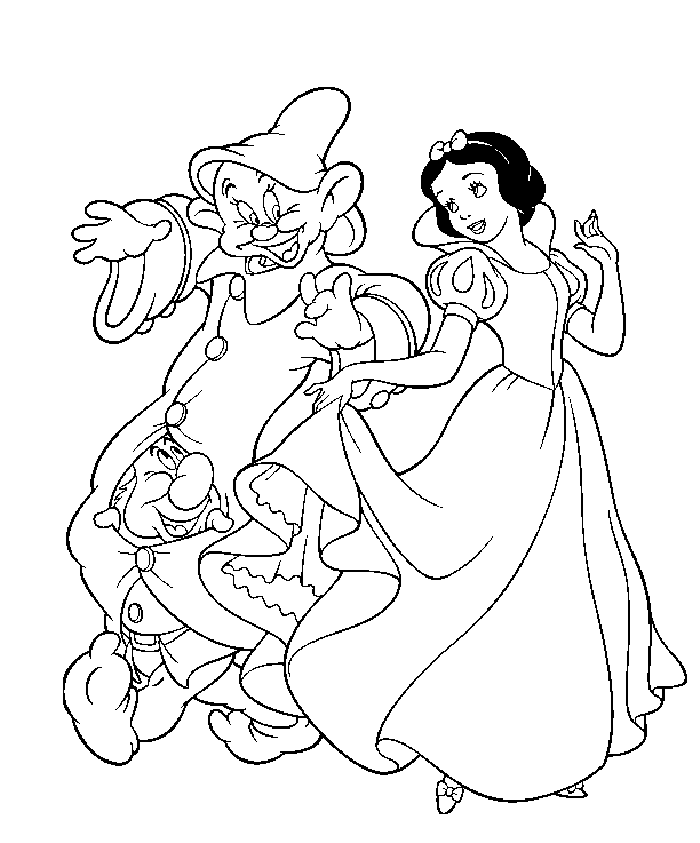 Disney Snow White And Dopey Coloring Pages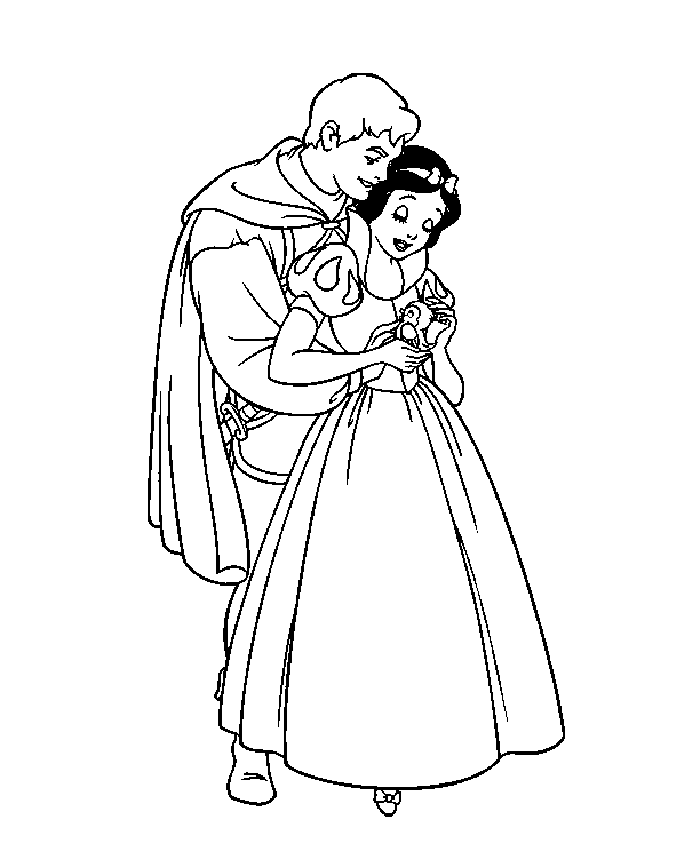 Disney Snow White And Prince In Their Love Coloring Pages
Snow White is a beautiful Princess and an idol for girls. If you have the girls, why don't download or print Snow White coloring pages to color. They will choose their favorite colors and paint these pictures. You can participate in this activity and help them finish off the complete Snow White picture. Coloring is not only for children, but adults can also participate in it to help you relieve stress in life, in work…You can come here after the hard-working hours. Please believe me. You don't waste time with us We are here and ready to help you to resolve all your questions about our services such as coloring pages, how to draw, blogs…